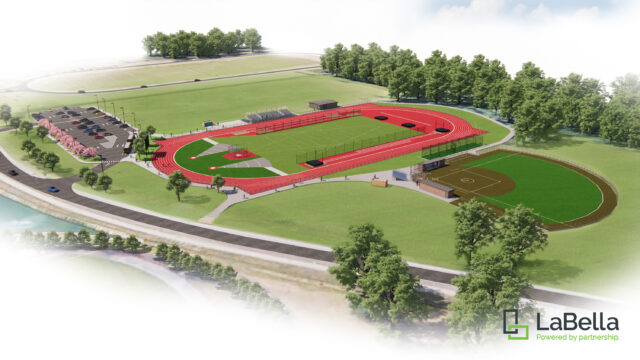 Project Components
Achieving Division 1 status is the goal. Athletic facility upgrades will help RIT upgrade their ranking.
Baseball & Softball Fields
The layout and orientation of the existing baseball and softball were adjusted to improve adjacencies and allow for modern amenities to improve both fan and team experiences such as bleachers, press box, dugouts, bull pens, and batting cages. The playing surfaces were also converted to synthetic turf. Turf was chosen to extend the playability of the fields for the fall and spring shoulder seasons.
Track & Field Upgrades
Track and field upgrades included the design of a dedicated facility and relocation to the north side of the campus's internal loop road. The enhanced facility layout will allow for all events to be held within an appropriate viewshed of spectators from a new grandstand. The design also includes infrastructure for improved timing systems and event results reporting with a new scoreboard. Other amenities include a storage building for event and maintenance equipment.
Soccer & Lacrosse Stadium
The next phase of the design includes the early site package associated with a new synthetic turf field, walkways, and utilities that will serve a future stadium dedicated to soccer and lacrosse. This portion of the overall project includes consideration for future pedestrian walkways, plaza, and stadium. The facility will be designed in accordance with NCAA Rule 1, the Field of Play, and provide an enclosed spectator experience.
Site Conditions
Existing site conditions on this portion of the campus included poor drainage, a high groundwater table, and proximity to a floodplain which led to frequently unplayable conditions following significant rain events. The design of the new facilities raised the elevation of the new fields, allowing for new stormwater management facilities to operate by gravity. To accomplish this, floodplain compensatory storage was designed and coordinated with the Town of Henrietta's floodplain administrator.
Project Phasing
Working closely with NYSDEC design guidelines, we have incorporated a phased Stormwater Pollution Prevention Plan that has been reviewed and successfully permitted through the Department. Expanding the SWPPP disturbance limits and incorporating treatment and attenuation of storms in each phase has been a key success to the phased project approach. Phasing the project allowed current facilities to remain playable during construction as well as helped the campus stay within construction budgets.