Landfill Environmental Compliance & Remediation
Talk to a LaBella Expert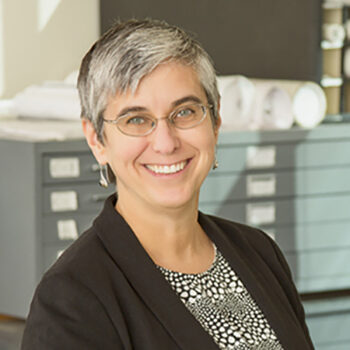 Jenny Johnson
Vice President, Director of Waste & Recycling
Richmond, VA
Groundwater Compliance Program Management
LaBella maintains a team of geologists, hydrogeologists, and environmental scientists with the technical expertise and industry knowledge to identify, evaluate, and solve your groundwater issues. We have managed groundwater monitoring programs at several landfills in Virginia. Of these landfills, approximately 85 percent are county- or city-owned.
We conduct groundwater monitoring, data evaluation, and report preparation. Reporting requirements include preparing Groundwater Monitoring Reports and an Annual Groundwater Monitoring Report each year. In addition, managing groundwater monitoring programs includes identifying suspect analytical results, performing re-sampling events, and preparing Alternate Source Demonstrations (when necessary).
Our commitment to technical excellence is the foundation of our sampling program, which is a comprehensive program aimed at achieving data quality objectives while maintaining worker health and safety. A sampling plan is prepared for each sampling event to ensure the proper samples and analyses are obtained to meet the requirements of your sampling program.
A significant factor affecting any water quality management program is the laboratory analysis. The high cost of contamination assessment and the potential long-term costs of corrective action make reliable laboratory analysis of samples more important than ever. The financial impacts of invalid data can be substantial, as are the adverse effects to regulatory status and public perception. LaBella's laboratory selection process ensures that we use laboratories that meet our standards of high-quality work product, responsive client service, and technical excellence.
Technical and regulatory reporting is an essential component of landfill groundwater monitoring programs under the VSWMR. LaBella prepares the required reports for our solid waste clients in a manner that is both technically excellent and in compliance with the applicable regulations. In addition, all our reports undergo an internal QA/QC review by a senior technical staff member. There are numerous regulatory deadlines associated with groundwater program management for solid waste facilities. We are effective in managing our workload and staffing so that we routinely meet regulatory and client deadlines.
Groundwater Corrective Program Management
LaBella has extensive experience managing Corrective Action Programs for landfill owners. We have delineated the extent of groundwater contamination and prepared Nature and Extent Study Reports and Assessment of Corrective Measures Reports for more than 25 sites in Virginia, North Carolina, and South Carolina. We have also prepared Corrective Action Plans for 20 landfills and have implemented corrective action at more than 15 landfills.
The corrective actions implemented include the following:
Presumptive Remedies
Monitored Natural Attenuation
Enhanced Bioremediation
Phytoremediation
Landfill Gas Management
Groundwater Pump-and-Treat
Soil Vapor Extraction
In-Situ Thermal Desorption
The purpose of the Corrective Action Evaluation Reports (CAERs) is to document the progress of the chosen groundwater remedy in meeting clean-up goals. In addition to demonstrating the effectiveness of the selected remedy, the CAER must demonstrate the remedy provides protection of human health and the environment, has the ability to achieve all applicable groundwater protection standards, controls the source of the release, and complies with the standards for the management of solid waste. Our environmental professionals use their strong technical background to evaluate the data collected during the CAER period in a meaningful and defensible manner.
Landfill Gas Compliance Monitoring & Remediation
LaBella has managed landfill gas monitoring programs, including sampling and reporting, notifying NCDEQ of action level and regulatory limit exceedances, and preparing and implementing Landfill Gas Remediation Plans, at more than 30 landfills in the Southeast region of the United States. Our team of geologists and hydrogeologists, environmental scientists, and engineers have the technical expertise and industry knowledge to identify, evaluate, and solve your landfill gas migration issues.
We have extensive experience in all facets of landfill gas management, including the following:
Landfill Gas Management and Remediation Plans
Monitoring of Landfill Gas Probes and On-Site Structures and Reporting the Results to NCDEQ
Designing and Implementing Remediation Of Methane Exceedances
Landfill Gas Characterization, Pilot Testing and System Performance Evaluations
System Installation and Start Up Services
Operational and Maintenance Services
Mobile Gas Extraction Units
Odor Assessment and Mitigation Plans
Beneficial Reuse of Landfill Gas
Case Study
In Situ Thermal Remediation at Martinsville Landfill
The Martinsville Sanitary Landfill is a closed, unlined, municipal solid waste facility owned and maintained by the City of Martinsville, Virginia. There are two unlined, open solvent pits located upgradient of the landfill that are designated for disposal of liquid chemical wastes produced by the local furniture and textile industries. At the request of the Virginia Department of Environmental Quality (VDEQ), LaBella Associates conducted assessment of the solvent pits and investigated remedial alternatives.
Watch the video to learn how LaBella's team used in situ thermal desorption (ISTD) to remove 116 tons of volatile organic compounds from the soil at the Martinsville, Virginia landfill.
Check out the image gallery below for more on the ISTD at the Martinsville landfill.
Image Gallery
In Situ Thermal Remediation at Martinsville Landfill
LaBella evaluated several potential remedial technologies for the solvent pits for applicability, effectiveness, time required, and cost.  The evaluated technologies included excavation and ex situ incineration in an on-site soil burner, enhanced bioremediation using injection of chemicals to accelerate natural biodegradation of the contaminants by bacteria in the soil, air sparging and soil vapor extraction, and in situ thermal desorption (ISTD).
LaBella concluded that ISTD would be the most appropriate technology for this site based on the site geology, the size and depth of the pits, and the types and concentrations of contaminants.  ISTD was expected to be the fastest, as well as the most cost-effective, way to remediate the solvent pit soils.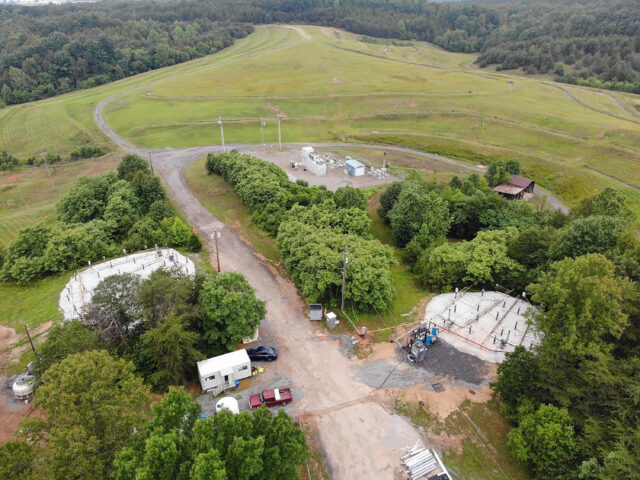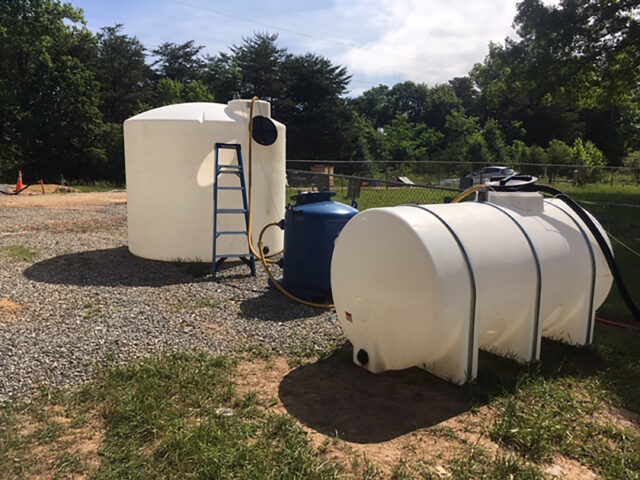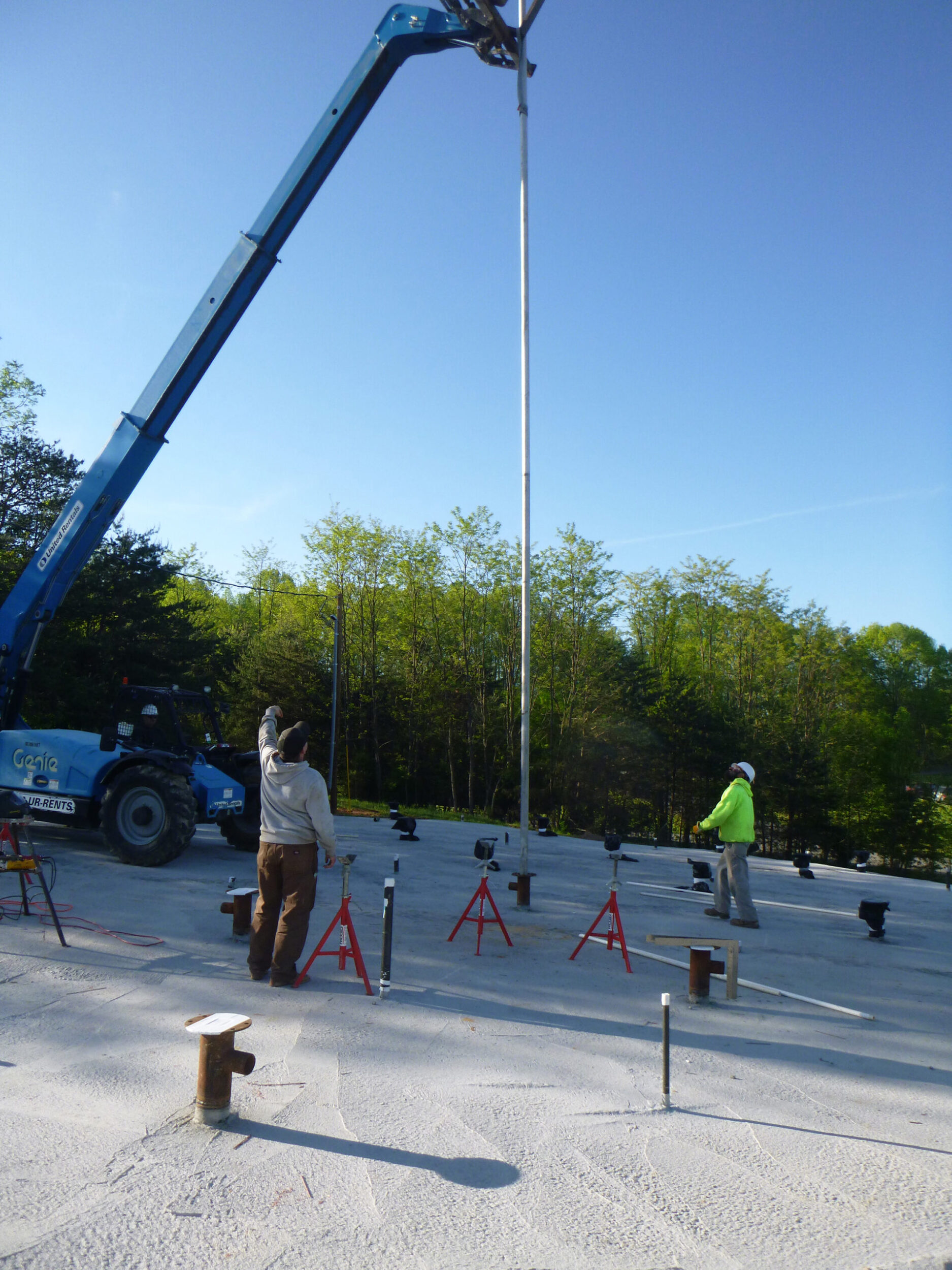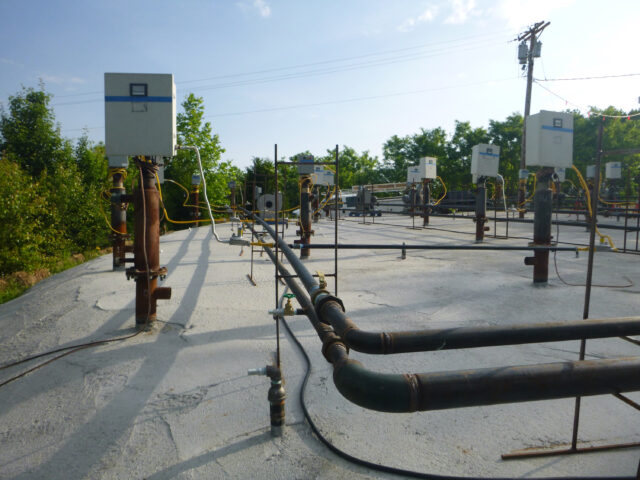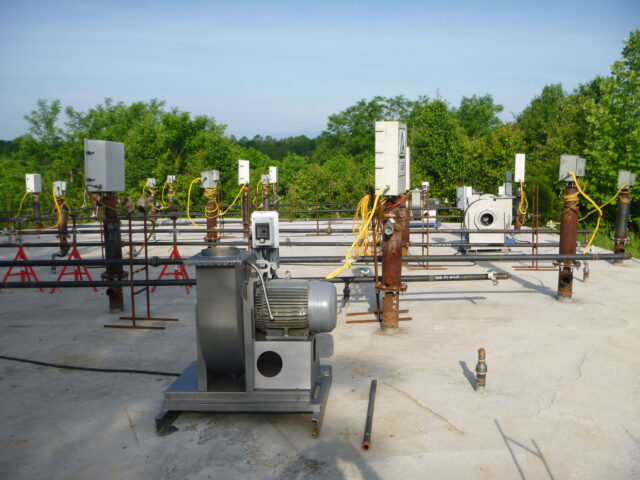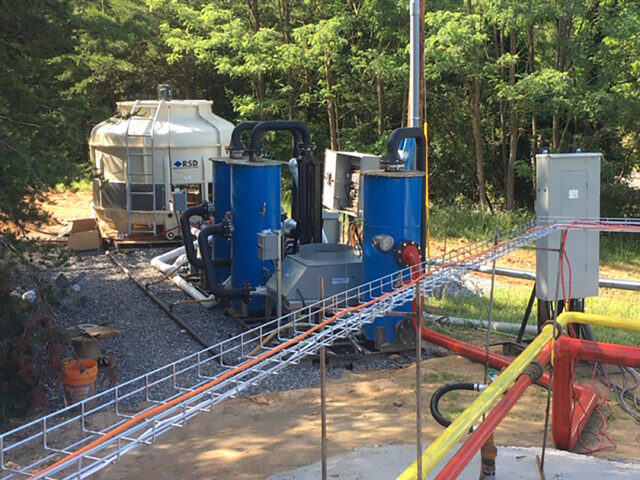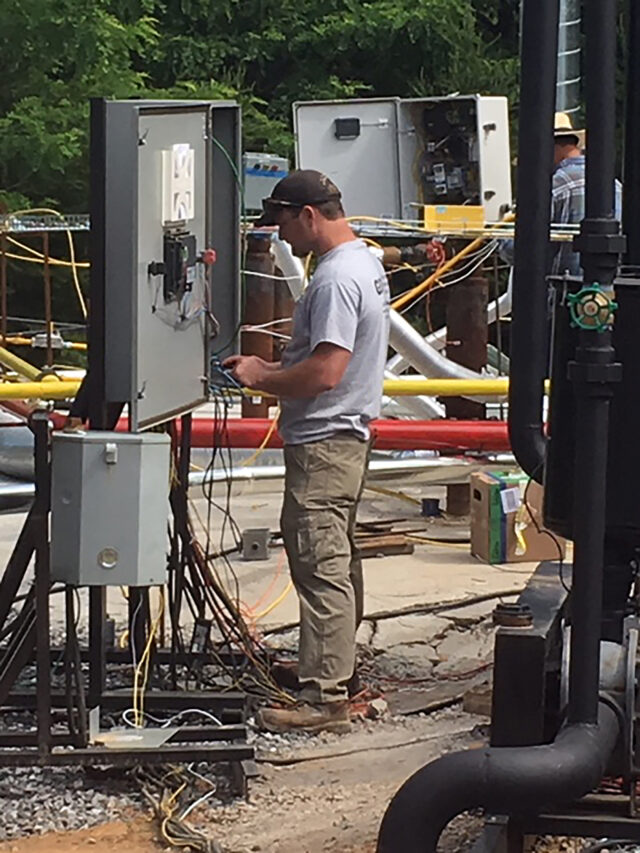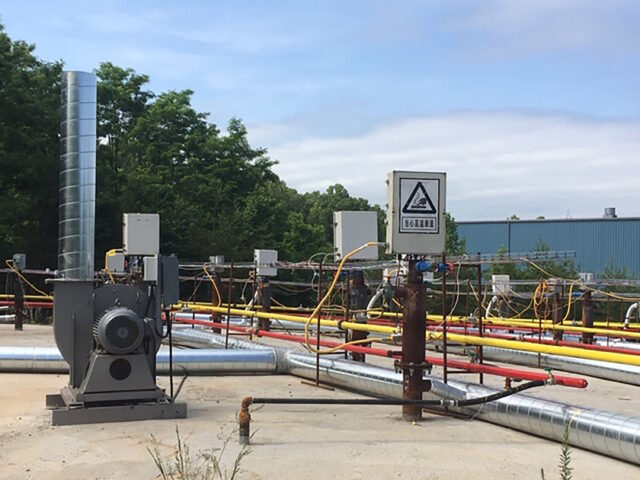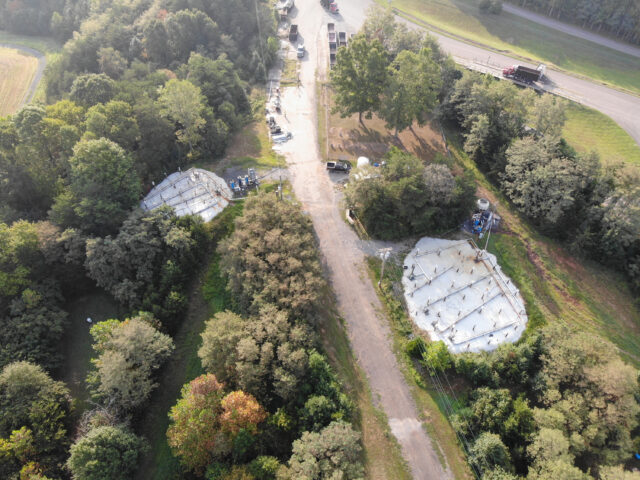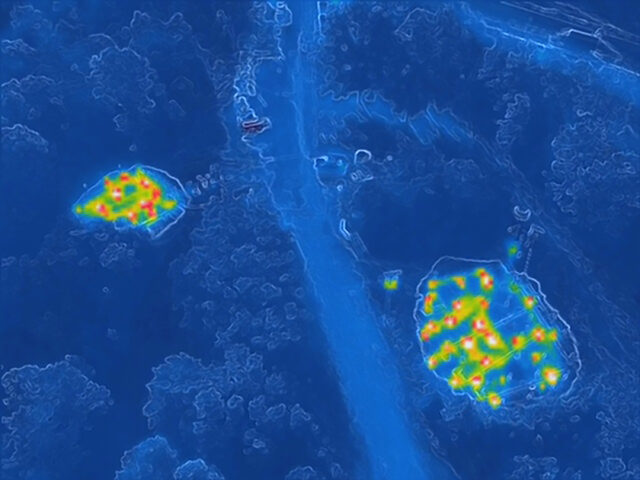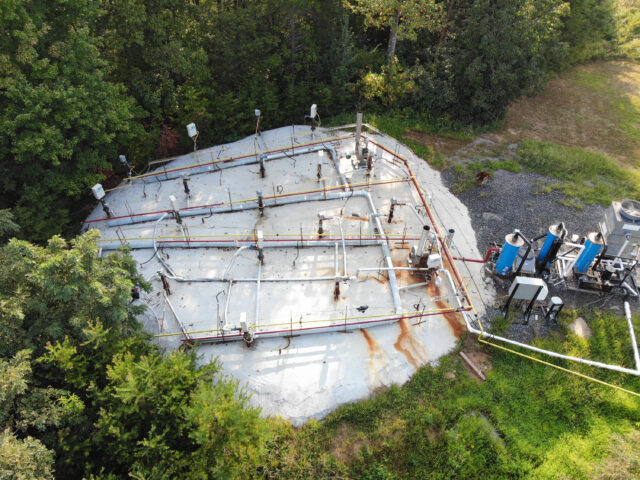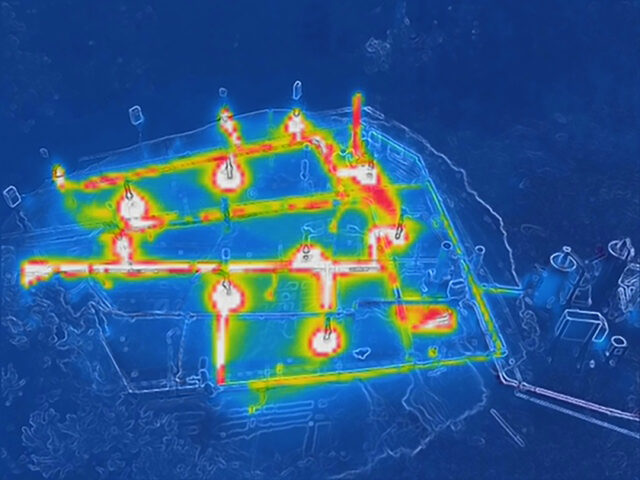 Recent Landfill Environmental Compliance & Remediation insights
View all