Building Code Services
Talk to a LaBella Expert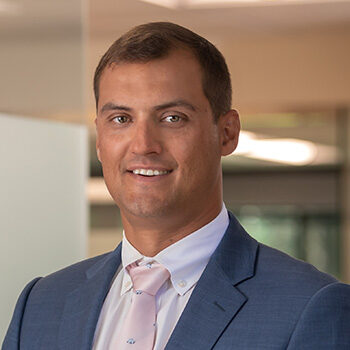 Ed Larkin, PE, NYSCCEO, LEED AP
Building Code Services Discipline Leader, Regional Manager
Eastern Region
Markets We Serve
Our building codes and life safety team provides a wide range of services, catered to meet each client's needs.
Execution & Efficiency
LaBella relies on systems developed over time and the latest technology to provide the most efficient service to our clients. Our team utilizes well established document control and tracking standards and can integrate them into municipal software. We understand how critical it is, especially in the COVID-19 landscape, to accept reviews in digital format. Internally, our team utilizes a cloud-based program for document storage, transfer, and plan reviews. This program allows clients to have access to our work throughout the review process and dramatically reduces project turnaround by eliminating the delay of standard document transfer. It also enables us to use the most qualified team of individuals for each project regardless of which office they are located.
Healthcare
Healthcare facilities are unique. They are not only heavily regulated by building and fire codes during construction, but also face continued compliance requirements from these codes, CMS regulations, and hundreds of applicable National Fire Protection Association (NFPA) standards throughout their operation. The volume, complexity, and frequency of updates to these codes and standards has made it difficult for healthcare facilities to remain compliant.
LaBella provides code consulting services to healthcare facilities for new construction and ongoing compliance. While we pride ourselves on our ability to listen and solve problems, which allows us to provide support in a wide variety of ways, the following are some of the more common services we provide:
Pre-Joint Survey Facility Assessments
Deficiency Resolution
Emergency Preparedness Plans
Fire Evacuation Plans
Risk Assessments
Barrier Management Plans
Code Education & Training
Health & Safety Training
Annual Compliance Monitoring
Condition Assessments & Capital Asset Management
Municipal
By immersing ourselves in the municipal permitting and construction process, LaBella seamlessly and immediately provides support to municipal staff in jurisdictions struggling to meet the demands of both sustained development and large, technically complex projects.
LaBella, with our dedicated team of code compliance professionals, can offer full plan review, inspection, and code consultation capabilities. To support this goal, we can provide temporary staff support, digital plan review, and inspection services. Our International Code Council (ICC) Certified Permit Technician performs document control and works closely with jurisdictions to facilitate the document turnover necessary to support building permit and Certificate of Occupancy issuance.
We leverage our experience in different jurisdictions to drive efficiency in yours. And our reviews and recommendations help advance building department operations. LaBella provides ongoing services to municipal clients; these long-term partnerships allow us to not only support daily needs for plan review and inspections, but we work with each of these clients to optimize processes and operate more efficiently. We also provide support through development of policies and procedures, drafting legislation, and supporting updates to fee structures.
LaBella also has the ability to handle large and complex projects that municipalities are required to review, permit and inspect. These include large-scale, unique projects such as new healthcare facilities and manufacturing plants, where our team has performed or is continuing to perform full review, permitting and inspections in support of Certificate of Occupancy.
Our team is comprised of:
Licensed Professional Engineers (PE)
Licensed Architects (AIA)
NYS Certified Code Enforcement Officials (NYSCCEO)
LEED-Accredited Professionals
ICC Certified Building Official
ICC Certified Fire Marshall
ICC Certified Permit Technician
Staff With Experience as Municipal Building Officials
Our services include:
Plan Review, Including Cloud-Based Collaboration
Inspection Services
Review and Oversight of Special Inspections
Delegated Design & Deferred Submittal Reviews
Code Analysis & Interpretation
Alternative Means & Methods Review & Guidance
State Variance Application Support
More Restrictive Local Standards
Policies, Procedures, & Department Efficiency Consulting
Non-Municipal
LaBella leverages our extensive knowledge of codes with our diverse experience in design and construction to ensure our clients realize their goals of a safe, compliant building. We understand the municipal permitting process. Combined with our technical expertise, LaBella helps owners, developers, and design professionals navigate the permitting process without undue costs.
Services Include:
Building & Fire Code Evaluation & Design Guidance
Alternate Means & Methods &d Appeals
Jurisdictional Negotiations
Basis of Design Analysis
ADA/Accessibility Investigations
Hazardous Materials Inventory Statements (HMIS)
Hazardous Materials Management Plans (HMMP)
Hazardous Waste Management Plans
Electric Safety & Arc Flash Compliance
Electric Safety Training
Fire & Life Safety Assessments
Fire Inspection & Evacuation Planning
Construction Fire Safety Plan Review & Preparation
Emergency Preparedness Plan Review & Training
Recent Building Code Services insights
View all