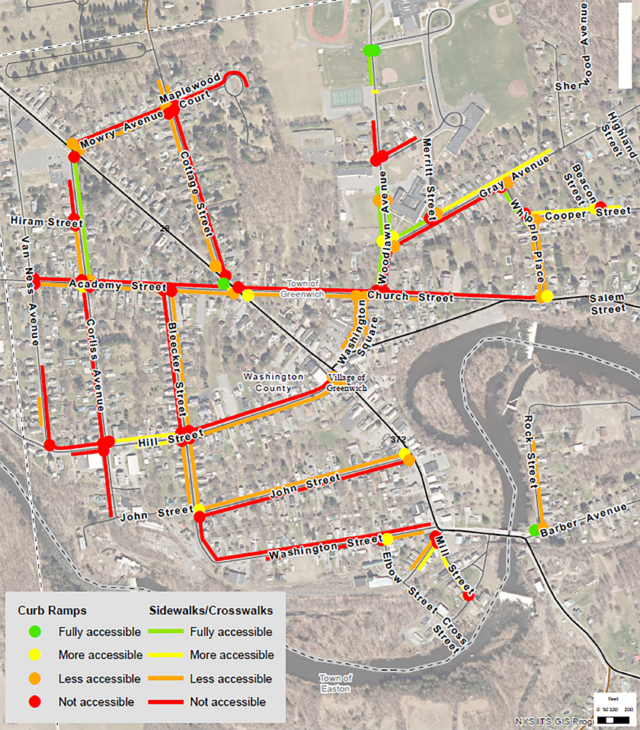 Village of Greenwich Main Street Plan and ADA Inventory
Streetscape Concepts, Parking Analysis, and ADA Plans Help Enhance Wayfinding and Connectivity in the Community
The Village of Greenwich's historic Main Street has an interesting mix of uses, is very walkable, and serves as an attractive place to do business. The Village expressed interest in enhancing its streetscape while addressing a long-term demand for convenient parking. Additionally, the Village recognized an opportunity to improve wayfinding and connectivity to the Battenkill waterfront.
The Adirondack/Glens Falls Transportation Council (A/GFTC) provided funds and engaged LaBella to prepare a plan to address the community's needs. Our scope of work included an inventory of the existing conditions, the development of a public engagement plan, meetings with a steering committee, and the development of alternative streetscape concepts and waterfront access options.
We completed an inventory of the downtown parking supply, a parking utilization survey that assessed current demand, and a license plate survey that evaluated occupancy duration and turnover. The parking analysis also estimated future demand based on forecasted building occupancy. Additionally, the client requested that we complete an ADA pedestrian facility inventory and assessment to support a complementary New York State Department of Transportation Transition Plan.
The Draft Plan includes a complete inventory of building owner/occupancy and a survey of business owners, who were contacted to discuss current parking issues, the potential for growth, and possible parking management strategies. The Village expressed interest in establishing a public parking lot to serve downtown and special events, and a series of options were explored.