Insights View all
COVID-19 Funding Sources Available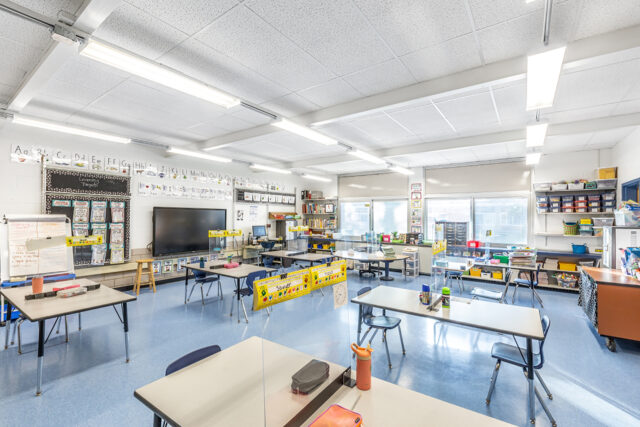 With a clear understanding of uses and timelines, districts can seize the opportunity to modernize facilities for both short- and long-term needs.
The COVID-19 pandemic has had an immeasurable impact on schools and communities throughout New York State and the country. As a result, the federal government has authorized three separate funding streams to address this impact. The Coronavirus Aid, Relief, and Economic Security (CARES) Act; the Coronavirus Response and Relief Supplemental Appropriations (CRSSA) Act; and the American Rescue Plan (ARP) Act are all federal relief funds designed to provide support, with the Elementary and Secondary School Emergency Relief (ESSER) fund specifically designated to address the needs of school districts as they strive to bring students back into the classroom. While there are many ways to utilize this federal aid, several can be targeted toward the physical needs of the school district.
Some examples of these are:
Technology purchases to provide or enhance online learning to all students, including infrastructure improvements
Facility repairs and improvements that enable the ongoing operation of schools to reduce virus transmission, including replacement of carpeting with tile to enhance the ability of surfaces to be sterilized
Improvements to indoor air quality, including mechanical HVAC system replacement, modifications, or new installation
Non-mechanical ventilation schemes such as adding or replacing exterior windows, doors, and skylights
Modifications to facilities to encourage social distancing, including construction to bring formerly shuttered buildings or building wings online
Purchase of a new building or modular classroom to respond to the COVID-19 pandemic by providing additional space to permit social distancing
Depending on the funding stream that is applied for, there are specific deadlines for when the federal funds must be obligated (usually meaning a purchase order is written for this work). These deadlines all fall on September 30, and must be obligated by 2022 for ESSER 1 funding, 2023 for ESSER II, and 2024 for ARP ESSER.
Districts intending to use federal funding will still need to submit their projects to NYSED if they exceed $10,000. NYSED has implemented some processes to expedite review in order to obligate funds prior to federal deadlines. Included is the elimination of a public vote if ESSER is the only source of funding, an expedited (6-8 week) review of projects, and allowing the use of ESSER funding for projects that have been previously submitted (though districts must submit an updated FP-FI form).
The total amount New York State has been awarded under ESSER is $8.9 billion. In order for a district to apply for funding they will need to submit a single CARES Act fund application for ESSER and GEER using the online SED monitoring and vendor reporting system on the NYSED website.
Once awarded funding, the process to utilize the federal money remains the same as other sources, with the only difference being the LOI, SED paperwork, drawings, and specifications all need a note indicating "Federal Stimulus Money". Districts are encouraged to utilize the federal money for a standalone project in order to take advantage of the expedited SED review and processing time.