Insights View all
Endangered Species Day
May 20, 2022 is Endangered Species Day! Celebrated the third Friday in May, Endangered Species Day was established by Congress in 2006 to promote the importance of protecting endangered species and highlight actions that have been taken to conserve species since the passing of the Endangered Species Act in 1973. LaBella has specialists on staff to perform endangered and threatened species surveys and habitat assessments for a myriad of species. Let's celebrate Endangered Species Day by highlighting a few of the endangered and threatened species our team works with every day.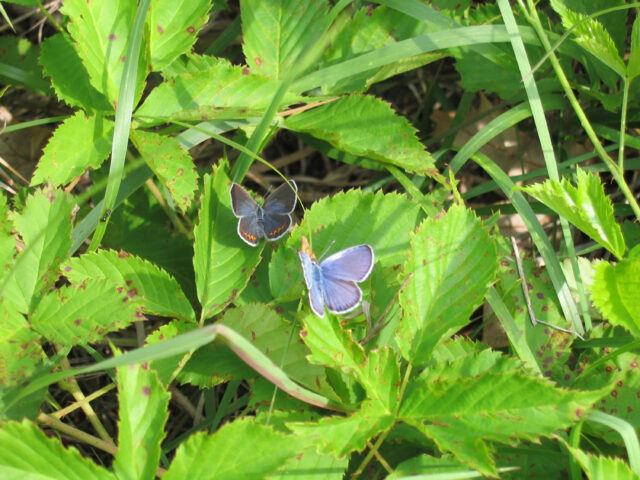 The Karner blue butterfly, a federally-listed endangered species, is named after the hamlet where it was first identified in 1944 in Karner, New York, which is near Albany. The small, silvery-blue butterfly is dependent on its host plant, wild blue lupine, which grows in open, sandy areas with plenty of sun. LaBella has surveyed areas across eastern New York for Karner blue butterfly and its habitat, and are currently surveying hundreds of miles of utility right-of-way for wild blue lupine, which also serves as a host plant to another rare butterfly, the frosted elfin. David MacDougall, Ecological Services Project Manager out of our Latham, New York office, even wrote A Field Guide to the Karner Blue Butterfly, which was published in 2007. Our team also prepared the first USFWS-approved Habitat Conservation Plan for this species in the northeast region.
Our team often completes habitat assessments to document suitable habitats for bat species found in the eastern United States, including Indiana bats and northern long-eared bats. The Indiana bat is federally-listed as endangered, while the northern long-eared bat is currently listed as threatened, though it was recently proposed for relisting as endangered by the United States Fish and Wildlife Service in March 2022. LaBella environmental scientists perform habitat surveys by searching for trees of the appropriate size with peeling or exfoliating bark, or crevices that bats could utilize for roosting. Bat populations that hibernate in caves have been severely impacted by white-nose syndrome, a fungal disease targeting bats. One way to help bats is by conserving their habitat, and we work with clients to identify potential bat habitat within their project areas and offer guidance on best practices to ensure that the project does not detrimentally affect bats or their habitat.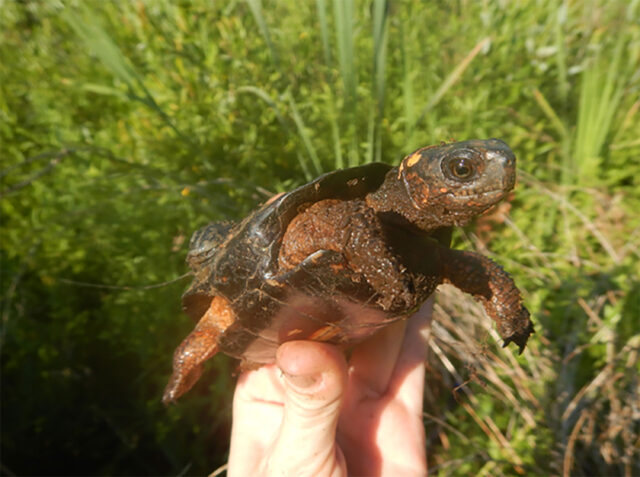 Another endangered species LaBella works with extensively is the bog turtle, which is listed as endangered in New York State and federally-listed as threatened. The bog turtle is the smallest turtle in North America and it has specific habitat requirements, preferring fens and wet meadows with emergent vegetation and mucky soils. For projects in the vicinity of bog turtle records, LaBella's environmental scientists perform habitat assessments to assess wetlands for their ability to support bog turtles. Where suitable habitat is found, LaBella has a USFWS qualified bog turtle surveyor on staff to complete presence/absence surveys for bog turtles. Our team has also completed detailed studies of this species, for example, we have recently been tracking a bog turtle that we outfitted with a radio transmitter attached to her shell (see photo) and have been tracking her for the past two years at a LaBella project site. The transmitter allowed us to track her movements across the wetland, and see which areas within her habitat she utilizes throughout the year, especially for critical behaviors such as hibernating and nesting. By gathering this kind of detailed information, our team is able to advise clients on mitigation and conservation measures to ensure that projects do not affect protected species or their habitats.
Other endangered, threatened, and rare species we offer services for include bald eagle, golden eagle, northern harrier, short-eared owl, small whorled pogonia, Blanding's turtle, various protected breeding bird species, and timber rattlesnake, to name a few.
To learn about ways that you can help protect endangered species by clicking the button below.