Insights View all
Esports – the Next Great Space to Learn in K-12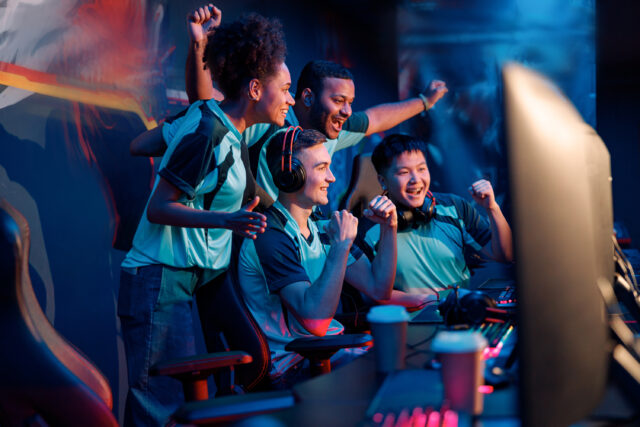 Schools across the country and world are incorporating esports or competitive video gaming into their curriculum – even offering full and partial scholarships – to meet the growing popularity and demand of virtual sports. This new genre of spectator entertainment generated $1.38 billion in revenue in 2022 and is projected to reach $197 billion in revenue in 2023, with user penetration at 32.4% and projected growth of 7% annually.
In 2014, Robert Morris University was the first to announce an esports-sponsored scholarship based on the team-based strategy game League of Legends. In 2016, the National Association of Collegiate Esports (NACE) hosted its first Collegiate Sports Summit with only seven colleges and universities with varsity esports programs. Now there are more than 170 schools that offer varsity-level esports programs and about $16 million in esports scholarships and aid.
In November 2022, the International Olympic Committee confirmed that Singapore will host the first Olympic Esports Week in June 2023, a major win in advancing the world of virtual sports and competitive gaming. The projected growth of the industry coupled with the increase in popularity of structured esports programs in colleges means that K-12 schools should consider implementing competitive gaming into their programming.
The Benefits of Esports
Esports provides an opportunity for institutions to bolster inclusivity by implementing a highly competitive sporting activity that erases gender lines and allows students to compete together on the same team and in a coed environment. In addition to gender neutrality, esports also allows students with physical disabilities the opportunity to compete against their able-bodied counterparts on equal footing. Providing this opportunity for students who aren't considered "traditional athletes" gives the benefit of a competitive team sport and contributes positively to the school culture and pride while driving social and academic engagement in students who may otherwise have been left out of alternative engagements.
Esports as an extracurricular activity also encourages interest in STEAM-related courses and careers, as many accomplished esports student-athletes are also interested in video game design. Any future video game designer can be expected to have an interest in art as a way to create fictional worlds that future games will be set in. They will be expected to creatively design creatures, buildings, cities, languages, etc. that will make up these worlds. A future video game designer with more mathematical talents could have an interest in programming and algorithmic problem solving, which would be necessary to engineer the programs and software engines the games will be built on. This will also be important in tracking player choices in increasingly complicated role-playing games (RPG) and writing programs for games that use complicated procedural generation in level design. As a student advances in the video game industry, interest in topics like marketing, operations, and project management will naturally develop as well.
Getting Started With Esports
To start, no team is complete without a coach. In addition to the role of a traditional coach, the esports coach will be in a position to identify student interests and to provide available paths to better capitalize on these. One example would be a student who seems interested in level design in a game and the impact it is having on strategy. Recognizing this, a coach could leverage this interest and suggest a career in architecture by pointing out the impact of building design on its occupants. Additionally, if a student seems particularly interested in how a game is reviewed or marketed, this could indicate an interest in business, and thus, using the video game as a tool to talk about business principles could expose the student to this career pathway. Finally, students more interested in shoutcasting could be receptive to career pathways in journalism, podcasting, or as a YouTuber.
Coaches will also be needed to review recorded gaming sessions to provide constructive game breakdowns and pointers on improving gameplay for the team and individual gamers. The coach will also be critical in identifying the great gamers from the good and to better position them to compete for collegiate level scholarships.
Equipment and Design Requirements
For a successful esports program, it is important to provide top of the line gaming computers with high GPU benchmark graphic cards, high refresh rate/high resolution monitors, noise canceling and high build quality headsets featuring surround sound, and low input delay controllers/keyboard, among many other considerations. The furniture and casework should be adaptable to any seating (or standing) height and provide ADA-accessible stations for students in wheelchairs to compete equally. To fully realize the equalizing effect of esports, considerations for students of other disabilities should also be incorporated. Using technology that can broadcast the video game sound directly to hearing aids is a simple way to allow another user group the benefit of full audio in competitive gaming and to compete at an equal level as their peers.
There are several additional design considerations when implementing a dedicated esports program. It is recommended that a space is dedicated solely to esports and not shared with other programs. The space should provide experiences that are more robust compared to anything students have at home to incentivize and reinforce the decision to join the team. The design of the room should have a formal area for competitions that can also be used for the varsity team to practice for extended periods. Ideally, e-casting/shoutcasting suites should be incorporated as areas for students to provide commentary for the online streaming sessions. There should also be an area for the students to relax and socialize between sessions, grab refreshments from vending machines, as well as take ergonomic breaks. At the University of Buffalo (UB), for example, softer seating with built-in work counters allows students to relax while providing a collaborative area for informal play review or strategizing between matches.
The HVAC design of an esports room is an important factor and will require a system that can handle the increased heat produced from the overpowered PCs, as well as systems that do not generate distracting noises. Acoustical treatments above and beyond standard classroom finishes can provide aural relief while contributing to the dynamic atmosphere of the facility.
What's more, the aesthetics of the room should respect and reinforce gaming culture. This can be accomplished through the selection of lighting, wall and floor materials, colors, and any added value enhanced items such as murals, paintings, logos, statues, etc. that will match what the student can expect at the next level. For example, bold graphics, colors, and the traditional gaming "pixel" were celebrated in the UB project through the repetitive use of squares in floor, wall, and ceiling treatments.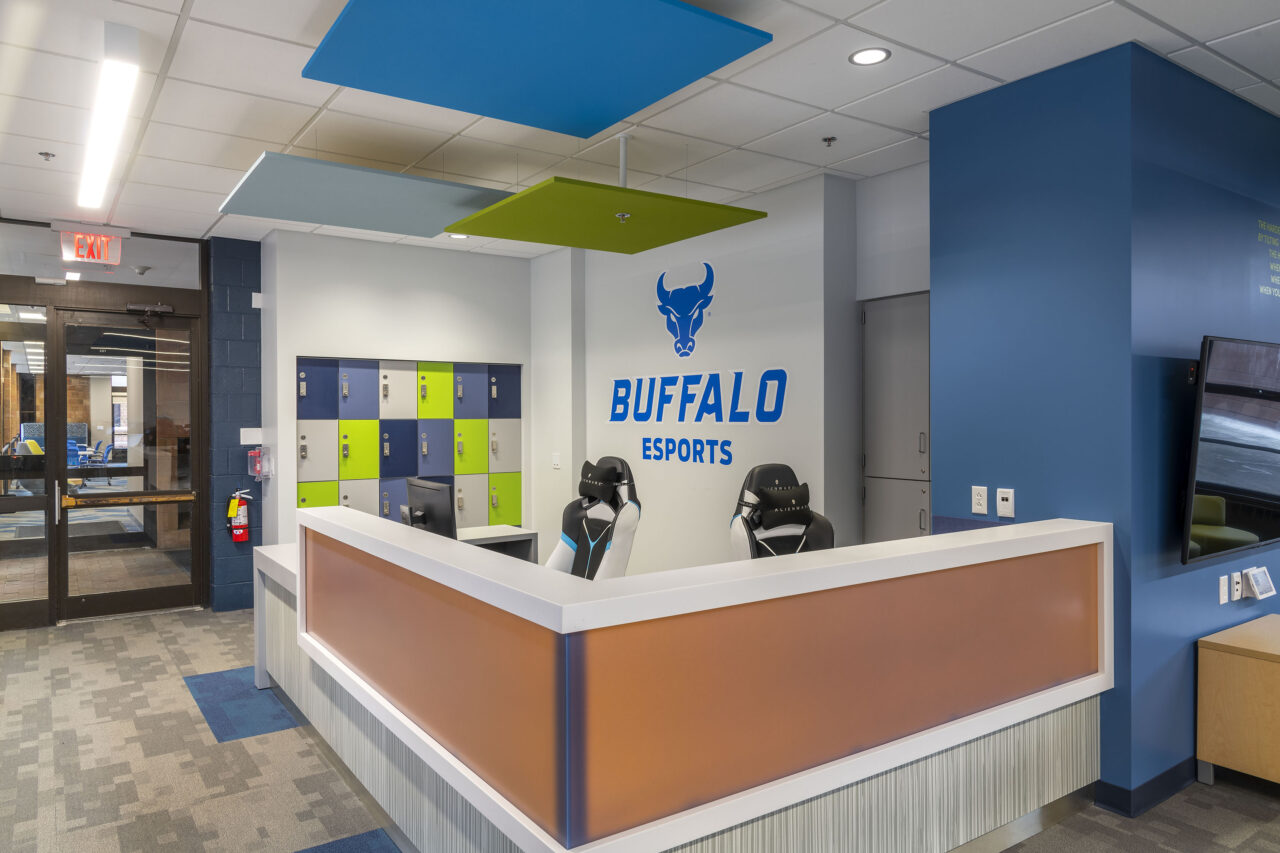 Considering the speed of innovation in the industry, esports rooms should also be designed to react to future trends, with additional empty conduit runs, extra space designed into the electrical panels, and served with the fastest Internet speed and cabling available. Furniture should be designed to allow for updated machinery and cabling and be easily accessible.
The size of the esports rooms can be adaptable, starting with a room capable of accommodating a minimum of eight students, but should be expandable as the program popularity grows. The location in the building is important and reflects the importance the school places on the program, which can influence the success or failure of the program.
For example, being placed prominently and easily seen through large expanses of glass with sun control will drive home the many benefits of an esports program and will ensure success. Further, placing the esports suite near the fieldhouse or athletic fields respects the competitiveness of the sport and allows the students to walk head-to-head with the school's more traditional athletes. Placing the esports suite in the music or arts wing places more emphasis on the culture and theater of competitive gaming. Ideally, a large successful esports program would command its own section of the school at equal prominence to the sports and theatre programs, allowing its unique and strong culture to flourish.
Meet Students Where They Are
The video game industry has seen steady growth since inception, with explosive growth more recently as the global pandemic forced many to seek new entertainment options at home. These new pandemic gamers are not going anywhere, and natural market growth coupled with an influx of new gamers provides a strong pool to draw from in forming a varsity esports program. Now is the time to meet students where they are as well as prepare them for the multitudes of opportunities that competitive video gaming presents beyond school. Time to level up!
*This article has also been featured in the following publications: