Insights View all
Fall Seminar Recap: Dr. Dillon and the 22nd Century Classroom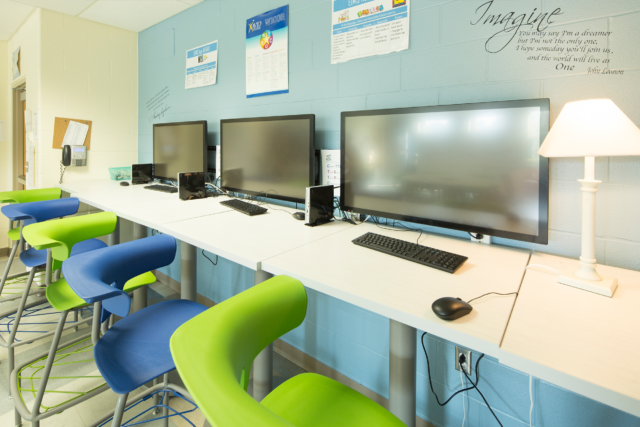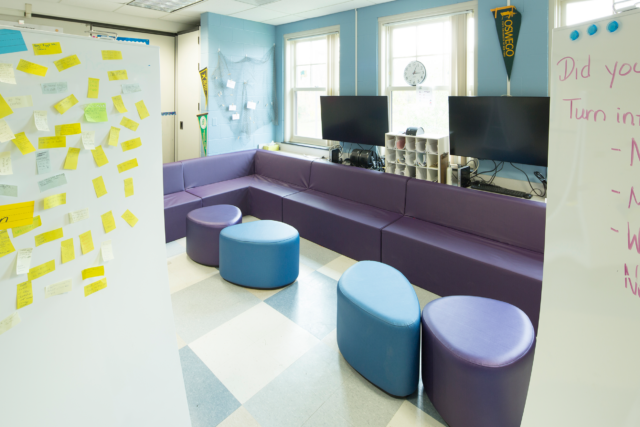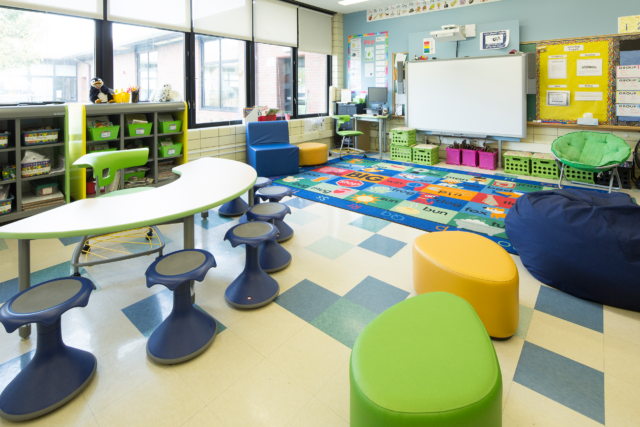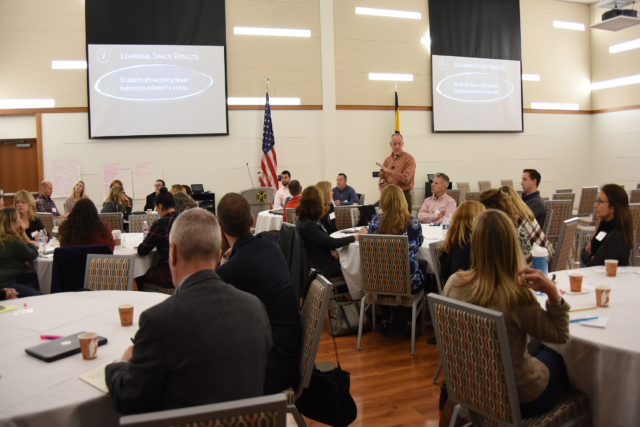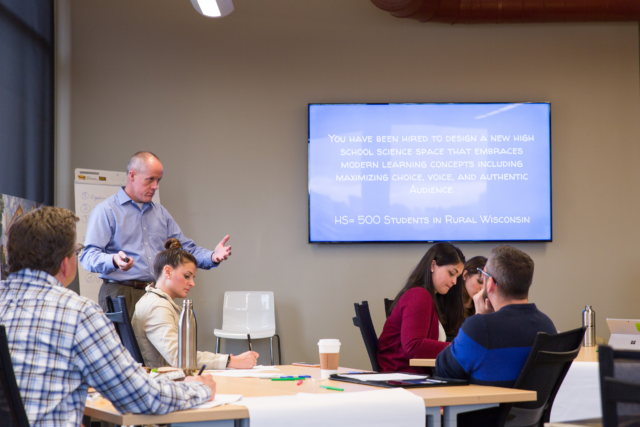 Dr. Dillon challenges educators to imagine how the role of technology in children's lives will evolve, and how schools can keep up with—and potentially pioneer—that evolution.
K-12 is some of the most exciting work for us at LaBella. Every day is different—some districts want traditional renovations while others aim for a state-of-the-art revamp. That's why we were excited to host a workshop led by one of the leading voices on the future of design within the classroom. Dr. Robert Dillon, co-author of a number of books for educators, travels the country to help districts rethink the ways in which they teach. He visited Rochester to present to LaBella designers and local educators on how—and, more importantly, why—to redesign learning spaces.
One of the key takeaways from Dr. Dillon's workshop is the idea of designing with kids, not for them. This was perhaps best exemplified by a question he asked to the crowd of educators—"Outside of school, where do kids like to study?" A few answers followed, but for the most part nobody knew where children like do work. "So, why are we designing rooms based on where we think kids want to learn," he asks, "without actually knowing?"
Dr. Dillon advocates looking for ways to humanize schools, which means doing away with the cookie-cutter approach. "My daughter has a friend who's 5'11"," he laughs, "and she's 4'11". And they're putting them in the same sized desks!" He says he doesn't know all the answers for furniture—that's something our interior design team can solve. But, he's certain that "ordering 25 of the same chair is never the right answer. There is no such thing as 'the average student.'"
More important than furniture itself, we need to create learning spaces that meet the needs of the whole student. Dr. Dillon brings up the data that more kids are suffering from anxiety and depression than ever before. His question—"How do we design for that?"—perplexes educators.
Trauma in children, he says, can mean anything from malnutrition to having seen violence. Experts are increasingly aware of the importance of classrooms supporting students' mental health, including spaces where they can lie down or decompress. "Kids need spaces for quiet," he says. "Just like adults do. As designers and educators, we don't always realize that."
New technology isn't just a tool for students. Educators also have new and exciting means to shape teaching approaches and expand our understanding of children. For example, we have access to over ten years of FMRI brain research that shows us what makes kids' brains light up and what doesn't. "Why don't we use that knowledge in designing schools?" Dillon asks, and encourages engineers and architects to act as conduits of the latest research to design brain-friendly classrooms. "I always hear about 'the 21st century classroom,'" says Dillon, "But we're already 17 years into that. We should be envisioning the 22nd century classroom.
One challenge educators face is the power of technology as the first line of instruction. Students may learn more easily from a YouTube video than from a teacher at the whiteboard. But—according to Dillon—that's okay. "If teachers don't have to worry about being the first line of instruction," he says, "they are actually much better at being the second line of instruction. Filling in gaps, finding mistakes, and providing support are really where teachers shine.
As classrooms hurdle toward the 22nd century, technology will hold an ever-greater presence on how we learn and teach. Although science is typically seen as impersonal and exact, in a classroom setting it's the very tool we need to help individualize classroom design and humanize the learning environment. Throughout every technological revolution and school renovation, though, one thing will never change—what makes a good teacher. "We need to show kids that adults can be playful," stresses Dillon. "Because if adults don't play, why the hell would they ever want to grow up?"
From an administrator's perspective, it's just as important to provide teachers with refreshing and exciting classrooms as it is students. "Teachers have a higher turnover rate than ever before," says Dillon. "And by coming together with designers, we can change that."
In our research on the future of the classroom, it's clear that change can originate from two distinct catalysts. In some cases, educators lead the charge towards new modes of instruction, and retrofit the classroom environment to support their programs. In others, changing the classroom first is necessary to enable the instructional change.
In both cases, but especially the latter, evaluating furniture options can quickly become overwhelming. It's also common for some educators within a district to have different stages of readiness when it comes to embracing change, making building consensus for innovative products difficult.
Visiting manufacturer dealerships and showrooms can help educators experience the product, but it may come with some drawbacks. "Visiting a furniture dealership is not unlike visiting a car dealership," LaBella's Interior Design Studio Manager Jackie Driscoll said. "They're knowledgeable about the product they sell, but ultimately make a commission on whatever the district buys." Many dealerships are exclusive to certain manufacturers, making it difficult to compare brands. LaBella's role is more like Consumer Reports, evaluating products across manufacturers, identifying features that add value, and working with multiple manaufacturers and dealers to bring the furniture package within the district's budget.
Our interiors team recently assisted two local districts in the process of selecting progressive classroom furniture. At East Irondequoit Central School District, administrators wanted to identify a group of educators who would be champions for change. A Request For Proposal (RFP) was issued, and teachers responded by identifying ways in which technology had changed their instruction. Ultimately 11 teachers were selected to work with our interior design team to outfit their classroom with progressive furniture.
For the Webster Central School District, our designers brought the classroom straight to them to set up an experience center with nearly sixty samples of furniture. They narrowed their selection down and plan to implement the furniture as part of their Capital Improvement Project.
Our clients can even "test drive" furniture by visiting LaBella's headquarters, where we offer tours throughout our offices to showcase sample furniture pieces. The interior design team is developing plans to expand into an entire simulated classroom where educators can see how furniture and technology come together.
Driscoll says it's important to keep teachers and students involved throughout the selection process. Each district has a different culture, and may be at different phases in readiness for change. A successful project will require identifying the unique goals for each district and designing spaces to support student success.
"I always hear about 'the 21st century classroom,'" says Dillon, "But we're already 17 years into that. We should be envisioning the 22nd century classroom."