Insights View all
Legislation Amendment to Speed Up Renewable Energy Projects in New York State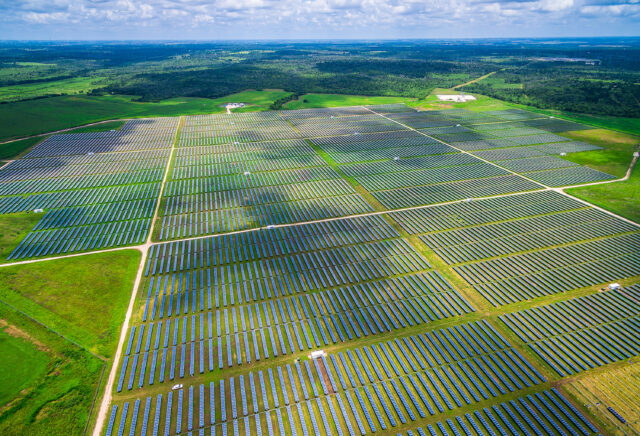 Proposed changes are set to go into effect immediately.
Last week, the NYS Legislature passed the budget bill, which includes an amendment that will dramatically speed up the permitting of renewable energy projects in New York State. The approved amendment – now referred to as Section 94-c of the Executive Law, formerly known as Article 23 of the State's Economic Development Law – stems from (and successfully maintained many aspects of) Governor Cuomo's Accelerated Renewable Energy Growth and Community Benefit Act proposed earlier this year.
The proposed changes are set to go into effect immediately now that the Governor has signed the bill. LaBella's Renewable Energy team has been dissecting the law to identify the major changes. This legislation will reframe the renewable energy development process with the following major components:
Establish an Office of Renewable Energy Permitting
The Act will consolidate the environmental review and permitting of major (20 megawatt or greater) renewable energy facilities to provide a single forum in a new Office of Renewable Energy Permitting (ORES). This office is tasked with ensuring permitting decisions are delivered on pace to help the State achieve the Climate Leadership Climate Protection Leadership Act (CLCPA) goals. ORES will issue a permit decision for a greenfield project within one year of the application deemed complete, and within six months for a brownfield/landfill project. The uniform permit conditions will be available for issuance by April 2021.
Clean Energy Resources Development and Incentives Program
The Act will also task the New York State Energy Research and Development Authority (NYSERDA) to rapidly advance new "Build-Ready" projects and prioritize the development of particularly difficult sites such as existing or abandoned commercial sites, brownfields, landfills, former industrial sites, and abandoned or otherwise underutilized sites.
Local Community Participation and Benefits
Local municipalities and community groups still have a role in the new permitting process: $1,000/megawatt third-party intervenor funding will be available, and projects will be required to comply with local laws unless deemed "unreasonably burdensome" in light of the CLCPA goals. Additionally, property owners and communities will receive incentives to host major renewable energy facilities.
Grid Planning and Energy Delivery Constraint Relief (Transmission)
Under the Act, the State will also require an assessment of the State's power grid system and accelerate the permitting of major electrical transmission infrastructure to help meet the ambitious renewable development and the CLCPA's emissions reduction goals.
We are committed to continuing to provide our clients with the information they need to be successful in future renewable energy projects. Stay tuned as we continue to break down components of the law and keep you up to date.
Greg is Director of Environmental Services and is a Certified Hazardous Materials Manager responsible for the direction of all environmental investigation projects undertake by LaBella. He has over 25 years of experience in designing, managing, and conducting numerous site assessments, remedial projects, Brownfield redevelopment projects, groundwater monitoring well installations, test pit evacuations, underground petroleum storage tank removals, and spill cleanups.