Insights View all
New York Adds Regulations for Review and Approval of Major Renewable Energy Facilities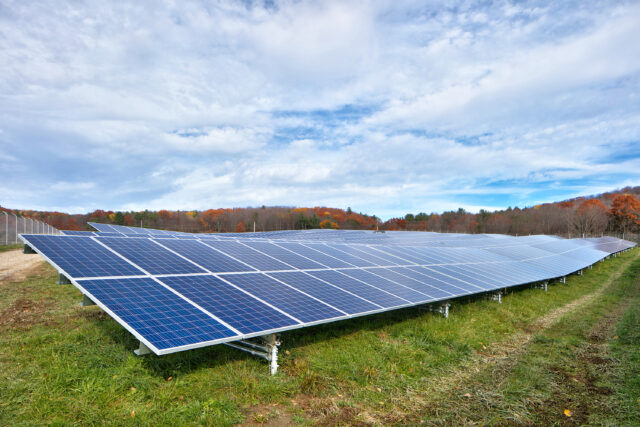 New York State has taken the next step in rolling out its new Section 94-c renewable energy siting process. Draft regulations have now been released that specify how the provisions of the April 2020 Accelerated Renewable Energy Growth and Community Benefit Act (AREGCBA) will be implemented. Also released is a first draft of the Uniform Standards and Conditions (USCs) applicable to all large-scale renewable energy projects (20-25 MW and above) in the State.
LaBella's dedicated renewable energy team has eagerly awaited the release of the Section 94-c regulations and USCs, along with many others involved in the field, including developers, attorneys, municipal representatives, and residents. The regulations and USCs set the stage for all aspects of utility-scale renewable development – specifically, siting, environmental studies, design, protection of sensitive resources, approval processes, construction, monitoring, etc.
Importantly, the Section 94-c regulations and USCs have been released in draft form by the newly created Office of Renewable Energy Siting (ORES). Comments are being accepted on the ORES website through December 7, 2020, and hearings are scheduled around the state to collect feedback from interested parties and the general public (see listing at end of article).
LaBella's professionals have taken a deep dive into the regulations and USCs in order to analyze the most important changes for our clients. Some of our initial observations are listed below.
The total of 41 exhibits (chapters) of an Article 10 application have been re-organized into a total of 25 exhibits for a Section 94-c application. ORES has recombined or even omitted issues amongst exhibits to reach the lower total.
Three new exhibits are added under Section 94-c: Agricultural Resources; NYS Threatened or Endangered Species; and Other Permits and Approvals, indicating an emphasis on these topics.
Battery Energy Storage Systems (BESS) generate a lot of concern in local communities regarding combustion, explosive, and safety hazards; however, Section 94-c contains surprisingly little detail about their regulation.
Detailed wetland and species studies are required earlier in the review process in order to facilitate coordination with NYSDEC.
Uniform setbacks have been defined for both wind and solar energy projects.
The 94-c regulations and USCs contain the expected design standards for daytime noise levels associated with wind energy projects, but no nighttime noise standards are specified. It may be that ORES prefers to set the nighttime noise standard as a site-specific condition rather than a uniform condition applicable to all projects.
Less extensive studies of ambient noise levels are required. However, complex changes have been added to the conduct of noise studies and the monitoring of noise post-construction.
Projects which impact active agricultural lands with important soils will have to comply with stringent guidelines of the NYS Department of Agriculture and Markets with regard to construction, preservation, restoration, and monitoring.
A significant change has occurred with regard to decommissioning. Salvage value, or the amount that could be realized by future recycling of facility components, must now be taken into account when determining the amount of the decommissioning fund that a developer bonds for the lifetime of the project.
These provisions, along with the sweeping changes brought into effect by passage of the AREGCBA law itself, usher in a significantly different framework for the review and approval of large, utility-scale renewable energy projects in New York State. LaBella Associates can assist you with questions about AREGCBA or the Section 94-c regulations and USCs and the implication for your projects or community. Contact LaBella's Renewable Energy Team at renewables@labellapc.com.
Scheduled Hearings for Section 94-c Regulations and Uniform Standards & Conditions:
In-person hearings (all scheduled from 5pm to 9 pm):
Buffalo – November 17, 2020 (Tuesday)
Rochester – November 18, 2020 (Wednesday)
Watertown – November 19 (Thursday)
Albany – November 20 (Friday)
Smithtown – November 23 (Monday)
Virtual hearings (all scheduled from 5pm to 9 pm):
November 24, 2020 (Tuesday)
November 30, 2020 (Monday)
Additional information can be found at https://ores.ny.gov/regulations.
Kathy is LaBella's Principal Environmental Analyst and the leader of our Environmental Impact Group, with more than 35 years of experience in environmental analysis and compliance. Kathy has prepared or overseen the preparation of SEQR and NEPA Environmental Assessments and Impact Statements for a wide range of community and private development projects and is experienced in dealing with the maze of other environmentally related permitting. She has been a leader in navigating renewable energy projects (wind and solar) though the Section 94-c process (formerly Article 10). Her expertise extends to historic and archeological analysis and coordination with the State Historic Preservation Office (SHPO) or the Tribal Nations, as these issues arise in nearly every project. Kathy brings strong, long-standing, and positive working relationships with State and Federal Agency contacts and municipal officials and is well-versed in noise, visual, community character, water resources, historic, archeological, endangered species, and other environmental resource issues.