Insights View all
Strategizing for Community Revitalization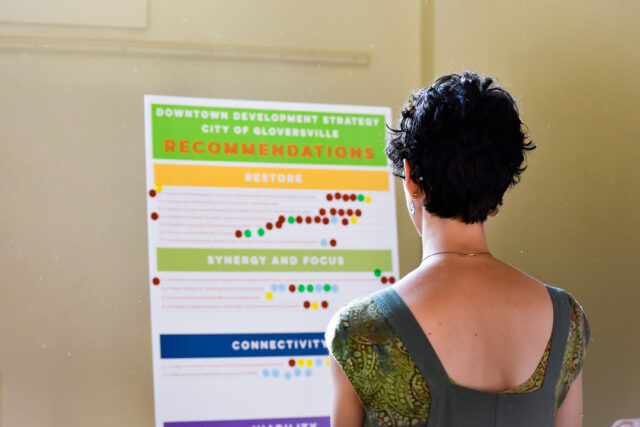 Enticing development requires more than sporadic conceptual design renderings, public announcements, and press releases. Learn how to build sustained momentum.
Do you live in a community with a downtown or business district that is falling short from reaching its full potential? Are there strategic sites in your community that are sitting vacant or underutilized that, if redeveloped, could be catalysts for community-wide revitalization?
If you answered yes to either one of those questions, you are not alone. Many communities have experienced disinvestment and a lack of interest from developers. Outmigration and disinvestment have led to deterioration in downtowns, industrial sites, and neighborhoods.
To address these concerns, many communities develop detailed recommendations to address the deterioration, but ultimately have limited success with revitalization. Some communities try to entice development through conceptual design renderings, press releases, and public announcements, but despite this effort, many projects never come to fruition. So how should communities initiate a community revitalization strategy that works?
Strategic Plans
Strategic planning is the first and most critical step in a community's long-term revitalization effort. Economic development takes time, patience, and commitment. Good strategic plans should include projects that can happen over time and maintain momentum.
Community revitalization is a journey and creating a strategic plan helps your community generate new investments, jobs, and pride in the place your residents call home.
What Is Included in a Strategic Plan?
Strategic plans include four key components:
An inventory and analysis of demographics, land characteristics, and economic data. This information helps a community understand the key issues and opportunities that provide a basis for realistic recommendations.
Community engagement includes public and stakeholder input, which ensures community buy-in, provides direction for the strategy, and helps to avoid or mitigate opposition to projects identified in the plan.
The strategic plan's vision, goals, and strategies are typically developed by a steering committee and provide a framework to evaluate potential actions or projects.
Recommendations and priority projects should be guided by the plan's vision while addressing key issues, opportunities, and community preferences.
The first three components often happen concurrently and iteratively because each informs the other. Recommendations on actions and projects only happen after the community has the information, input, and direction from the inventory, community engagement, and vision/goal setting sessions.
Why Strategic Planning Works
Strategic plans work for several key reasons:
Priorities Matter – Communities often have multiple economic development issues to address. Strategic plans help communities prioritize those which are most important and will have the greatest impact on the community's long-term revitalization.
Resources Are Limited – Strategic plans are tailored for each community and are based on resources (staff, budget, level of volunteers, etc.) available in the community.
Numbers Don't Lie – An economic and market analysis is a key component of a strategic plan to identify realistic uses and the scale of those uses (square foot units) that a community can support.
Community Support – Strategic plans, and especially projects identified in those plans, have a much better chance of being implemented if the community is engaged during their development.
Ed Flynn, Director of Planning at LaBella, recommends that communities focus on developing strategic plans for downtown, neighborhood, or community-wide revitalization. LaBella's planning team knows strategic planning works. Over the last decade we have helped 17 communities with strategic plans implement 112 downtown building renovations with an investment of more than $10 million. These projects have been supported by almost $5 million in grant funds that LaBella has obtained on behalf of their clients.
Who Should Be Involved in Developing the Plan?
Plan development weighs heavily on your own community. The public and key stakeholders should be consulted throughout the project. Interactive public meetings, including open houses and workshops, should be held at the beginning of the project to get initial input, and also at the end of the project before the plan is finalized. Stakeholders should be interviewed either individually or in a focus group setting to understand issues and opportunities within the community.
What Are the Benefits of a Strategic Plan?
While there are many benefits of a strategic plan, the most important include:
Funding – Strategic plans identify order of magnitude project costs and funding gaps, and provide the basic information needed for a grant application.
Consensus – Consensus helps advance economic development projects, ensures community needs are met, and most importantly, provides future investors with direction on what the community wants.
Priorities Are Defined – The priorities defined in a strategic plan provide communities with a blueprint for action that can be implemented through funding in annual budgets and multiple grant sources.
Get Excited to Get Started
As with most projects, starting the strategic planning process is often the hardest step. If you live in a community where residents and businesses are interested in revitalization, leverage their passion by developing a steering committee or a task force to address economic development! We recommended that the group consists of residents, business persons, elected officials, and any key staff involved in economic development.
Contact us at inoffice@labellapc.com for more information.