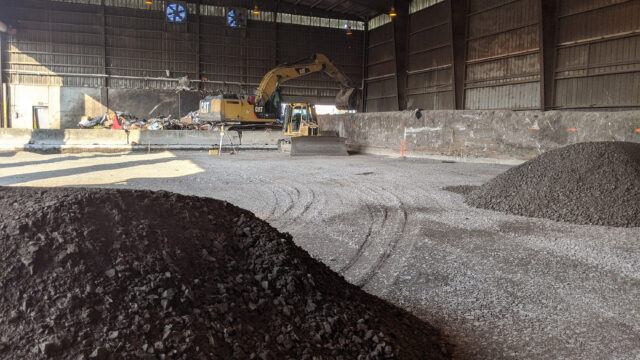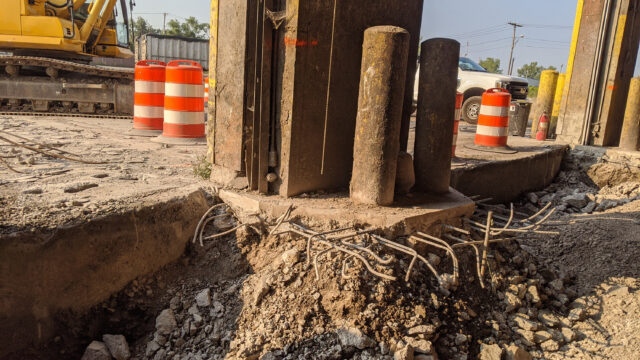 East Side Transfer Station Rehabilitation – Buffalo, NY
Phased Approach Maintains Waste Collection Operations
The City of Buffalo retained LaBella to provide engineering services for the rehabilitation of their East Side Transfer Station. The facility is owned by the City, however, Waste Management, Inc. is the daily operator of the facility. The facility is in daily use transferring waste from City residences to designated landfills. The building and site are under constant stress from garage hauling vehicles and since the last rehabilitation over 15 years ago, much of the buildings concrete slab and asphalt drive lot has deteriorated.
The project included replacing a portion of the existing concrete slab within the building. The total floor slab is approximately 11,000 sq. ft. and separated into three bays. Two of the bays were in poor condition and were replaced using a "Sacrificial Floor Overlay Slab" approach.
The design consists of a 6-inch thick concrete top slab with combination steel/ fiber mesh reinforcement and a 10-inch thick bottom slab on grade with steel reinforcement bars. The top concrete slab is subject to heavy vehicle loading, abrasion and leachate is considered "sacrificial" which can easily be replaced without major construction and disruption to the daily activities. Two new catch basins, in each bay, and new 8-inch sewer pipe out to the existing sewer infrastructure were installed to improve drainage within the building. The concrete slab installation was phased to continue daily operations without construction interference. A new 10-inch thick, reinforced 100 ft. x 50 ft. concrete apron slab was added for vehicles entering the building which replaced the failed asphalt.
The existing site consisted mostly of damaged asphalt. New heavy duty asphalt, approximately 61,000 SF, was laid throughout the site. This was planned in a six phase approach as to continue daily operations without construction interference. Other amenities included replacing building rainwater gutter downspouts, a 180 ft. by 6 ft. concrete trailer jack pad, and replacement of approximately 300 ft. of 12 ft. high slated chain link fence.
Early on in the project, LaBella investigated the replacement of a truck scale and providing a new pre-fabricated scale building to replace the existing trailer on site. Cost estimates mid-way through the design exceeded the budget, thereby eliminating this scope of work.