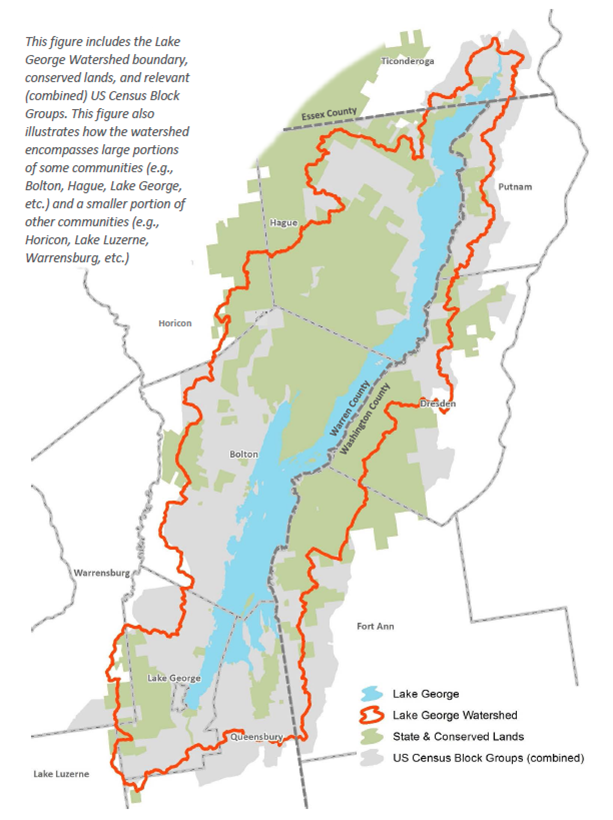 Lake George Watershed Data Atlas
First of Its Kind for Lake George, the Data Atlas Explores Potential Buildout of the Watershed
The Lake George Watershed Data Atlas is the first ever compilation of watershed-specific population, housing, land use, and infrastructure data for the 12 communities located in the Lake George Park – Town of Lake George, Village of Lake George, Queensbury, Lake Luzerne, Bolton, Warrensburg, Hague, Horicon, Ticonderoga, Putnam, Dresden, and Fort Ann.
Funded by the Lake George Association and the Lake Champlain/Lake George Regional Planning Board, LaBella's work included an intensive data collection effort, a robust GIS evaluation, interviews with stakeholders, and a variety of public presentations across three counties.
Community profiles were developed for each of the towns and the village that call Lake George home. The Data Atlas explores development potential (buildout) of the entire watershed and presents this information in a highly readable graphic format, making it incredibly useful for developing dialogue about the lake's future.
More information about the Lake George Watershed is available here and the Data Atlas can be accessed here.