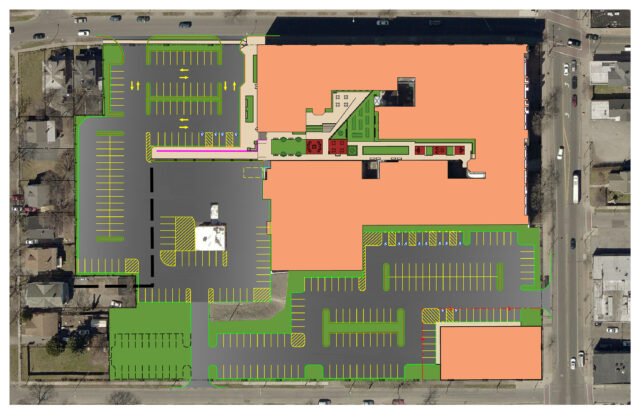 Tailor Square Apartments
Site Design That's Tailor-Made
An arrangement between long-time Rochester clothier, Hickey Freeman, and affordable housing developer, Home Leasing, enabled Hickey Freeman to shift all necessary operations into a more efficient space while at the same time shedding nearly 130,000 sq. ft. of unneeded real estate within a historic, four-story building. The unneeded real estate will be converted into a mixed-use, mixed-income community in the City of Rochester.
The project will consist of 134 affordable apartments for low-income adults while also providing more than 77,000 sq. ft. of manufacturing space. Located in one of Rochester's lowest-income neighborhoods, the proposed project will provide seniors an opportunity to live in high-quality housing where they can live both comfortably and affordably. The apartments will include studio and one-bedroom models with 44 of the units being allocated as supportive housing for seniors who require assistance under the Empire State Supportive Housing Initiative (ESSHI).
Collaborating with Hickey Freeman and Home Leasing, LaBella Associates is providing a range of site design and environmental services for the redevelopment of this historic building. Specific services provided by LaBella include:
Site Civil Design
Environmental Due Diligence
NEPA Review
Site Suitability Analysis
Pre-Renovation Hazardous Building Material Survey
Abatement Design & Air Project Monitoring
Environmental Management Plan Development & Cost Estimating
Testing for Lead in Drinking Water
Sub-Slab Depressurization System (SSDS) Design
For this project, LaBella's Environmental Impact Group performed an environmental review in accordance with the State Environmental Quality Review Act (SEQRA) and the National Environmental Policy Act (NEPA) 24 CFR Part 58. The SEQRA review involved an assessment of the project site's historic and archeological sensitivity and nearby remediation sites. A negative declaration of environmental significance was issued for the project.
The NEPA review involved a comprehensive evaluation of environmental impacts associated with converting this clothing manufacturing facility into an affordable housing community. Both the Statutory Checklist and Environmental Assessment forms were completed. The information gathered in the regulated building materials surveys, and Phase I and II Environmental Site Assessments performed by LaBella was a critical component of completing the NEPA documentation. In addition, a HUD STraCAT analysis was performed, and compliance with all Federal Statutes, Executive Orders, and Regulations was documented.
LaBella also performed a site suitability analysis, which included investigation of potential environmental impacts from nearby industrial and manufacturing facilities and remediation sites. Impacts such as noise, sound, and traffic determined the project site's suitability for conversion into an affordable housing development.