Insights View all
Pedagogy Predictions from EDspaces 2019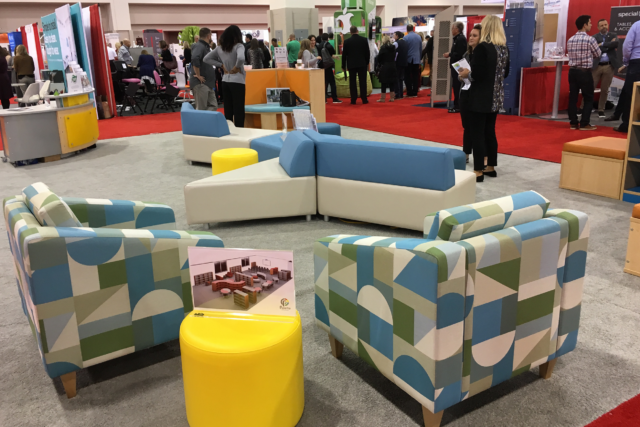 Last month, members of our design team traveled to Milwaukee, Wisconsin for EDspaces – largely considered the leading event on educational design, pedagogy, and furniture trends. Here are some of our key takeaways from this year's event.
At this annual event, architects, interior designers, K-12 and university facility planners, educators, and exhibitors converged to share their expertise and learn about new products while defining the future of educational design. This year's event featured countless educational sessions, facility tours, and showroom exhibits.
Makerspaces
Makerspaces have been and continue to be a trending and commonly implemented space within educational settings. In fact, LaBella completed the first Makerspace for Edison Tech High School in the Rochester City School District this past year. The EDspaces showroom floor reflected this trend, saturated with Maker and STEAM-friendly furniture. Each exhibit had an ever-present focus on technology integration, adaptability, and storage options. A few standout solutions included improved mobile whiteboard options featuring small work surfaces, pegboards, and optional storage bins; customizable demo stations with flexible storage solutions and integrated power; and various work tables and mobile storage with magnetic, writeable surfaces.
While Makerspaces will continue to be a design feature for many school districts, they can often be difficult to implement long-term. One education session led by Matthew Schultz, Technology and Engineering Instructor at Lakeview Technical Academy, discussed the importance of pre-installation planning for Makerspace management. From his experience, he found that many discussions should be had prior to deciding to create a Makerspace. These include considerations on the mission and vision for the space and curriculum, what equipment should be included, who will manage training, connectivity, and maintenance of said equipment, and long term feasibility and sustainability.
Biophilic Design
Several of this year's model classrooms and furniture products leaned heavily into biophilic design – a concept which emphasizes the human tendency and desire to interact with nature. This idea has been pivotal in the healthcare design field, with numerous empirical research studies citing the inclusion of biophilic design as a catalyst for increased patient health and happiness. On a basic level, New York State Education Department standards have even referenced this notion, requiring that student classroom spaces have views to the outside.
The designed classrooms at EDspaces pushed this concept even further. Many of the these rooms incorporated shades of blue and green as well as textures that evoked the outdoors such as wood furniture or patterns that mimic plant life growing between stones. Digitally printed worksurfaces, acoustic sound panels, and upholsteries featured images of nature in a more literal approach. In several education sessions, speakers pushed the idea of incorporating completely outdoor classroom spaces or creating flexible environments where an interior classroom could be opened to an outdoor facility. In any case, EDspaces attendees surely felt connected to the great outdoors.
Safety & Security
Architects and designers need to consider a multitude of factors when designing effective educational spaces. However, student safety and security is the top priority. After all, students who do not feel safe will not feel ready to learn. Collaboration between designers, school administrators, and staff is crucial to a successful emergency-preparedness and access control plan. Secure vestibules that prohibit immediate access to the school building as well as administrative areas have been put in place in many schools as well as laminated or hardened glass at key entry points. However, education on the procedures relating to these solutions is often lacking. This education, perhaps even more than the design itself, can be the difference between security and weakness in a building's access.
Student & Community Involvement
Some may be familiar with the phrase, "Nothing about us, without us, is for us." This idea summarizes the principle that nothing should be decided for a group without the participation of the group itself. Many thought leaders at EDspaces embraced this idea and found more effective and enjoyable designs are often achieved by involving the entire school community at various stages of development. Whether setting priorities in Campus Master Planning or providing detailed feedback on pilot classroom programs (like LaBella's recently completed Hilton CSD Classroom of the Future initiative), community input in facility planning results in better outcomes. Community buy-in comes from a transparent, collaborative approach during design.
For classroom furniture overhauls, involving students and teachers early on allows for a more successful end result with less culture-shock upon installation and implementation. Observation of current classroom usage paired with instructional input from staff gives the design team a unique insight into the needs and goals for learning spaces. Engaging early on in the design can help tailor furniture solutions that enhance curriculum needs rather than inhibit them and save time and expensive iterations in the process. Additionally, having students and staff test potential pieces allows for the district to have a direct voice in what does, and does not, work for their learning environments and builds excitement through hands-on, experiential learning.
Vision for 2020
As we look forward to Epaces 2020, our predictions for design trends include:
 A continued look into balancing safety and security with openness and aesthetics, with furniture solutions playing a role as tools to create safe zones within the learning environment.
 STEAM and Makerspace concepts will start to be pushed further within existing classrooms rather than separate dedicated spaces, requiring a deeper look at current pedagogy as well as more efficient uses of space.
Master planning for schools will start to consider furniture as a key component rather than an afterthought. Schools should look to incorporate furniture as an investment as well as the built environment.
Wellness and happiness will continue to grow as metrics for success of learning environments. Programs like the WELL Building Initiative will start to be implemented in school design in addition to familiar sustainable and biophilic concepts.
Student involvement in design innovation will continue to trend as a hands-on method of learning as experiential education grows within current school curriculum.
We'd love to hear your thoughts!