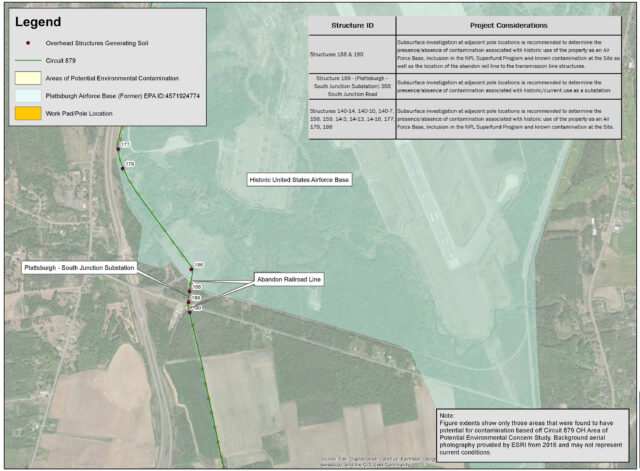 Circuit 879 Area of Potential Environmental Concern (APEC) Study
APEC Study Identifies Superfund Site with PFAS Contamination and Additional Areas of Concern
A utility company planned to install a new overhead electric utility line as part of a larger project and selected LaBella to perform an Area of Potential Environmental Concern (APEC) study to identify any potential environmental concerns along the project route.
The APEC study consisted of a regulatory records search of ASTM E1527-13 required databases. The findings of this study identified suspect locations close to proposed excavations for soil sampling. The data from the soil samples guide decisions for soil reuse and/or disposal options in accordance with applicable regulations. The study also identifies any remedial sites that may require compliance with Site Management Plans, Excavation Work Plans, Institutional and Engineering Controls, etc.
Prior to the APEC study conducted by our team, it was discovered that a portion of this project intersected the Former Plattsburgh Air Force Base (AFB) Superfund Site, which has been known for per- and polyfluoroalkyl substance (PFAS) contamination in groundwater north of the flightline on the site.
Based on this discovery, we were able to coordinate with the agencies involved, including the New York State Department of Environmental Conservation (NYSDEC) and the United State Environmental Protection Agency (US EPA), as well as the AFB to create and implement two work plans during the subsurface work close to PFAS-contaminated soil and/or groundwater.
Additional areas of concern were also identified during the APEC study, leading to required sampling and characterization of soils within these locations. Using the soil sample data, allowable management options were provided to the project from excess spoils generated in these areas.
Our team coordinated the third-party transfer of soil that met beneficial reuse requirements to a mine in the reclamation process, as well as the disposal of excess contaminated soil at a permitted landfill. Furthermore, we assisted in the disposal of PFAS-contaminated wooden poles from the site to a hazardous waste landfill out of state.
Because our team conducted this APEC study and pre-construction soil characterization prior to mobilization and construction activities, the proper coordination and protocols were followed and implemented to ensure the work was in conformance with applicable local, state, and federal regulations.
Completing the APEC study prior to construction helped facilitate live loading of material generated during construction with allowable management options clearly identified, preventing any significant delay of construction activities.
Featured Electric Utilities Projects
View more