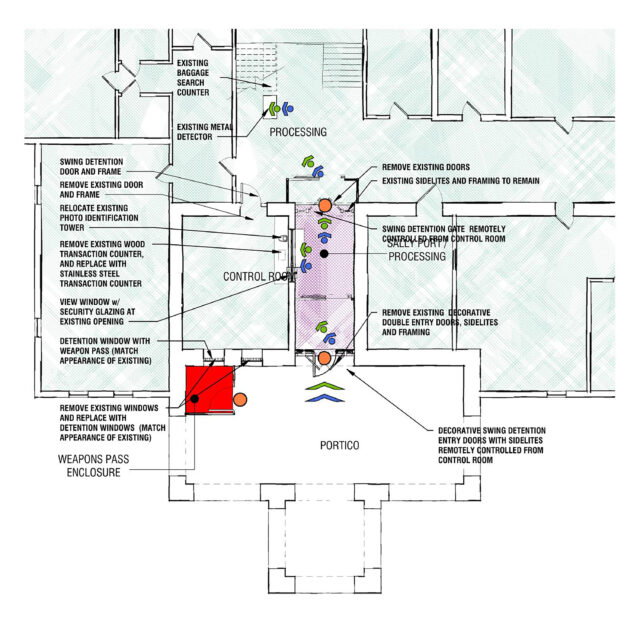 Clinton Correctional Facility Security Enhancements
Improved Security at Correctional Facility Creates Safer Environment for Visitors and Staff
Clinton Correctional Facility in Dannemora, New York, contains a maximum-security facility (Main Facility) and a medium-security facility (Annex Facility). The project intent is to provide security enhancements to both facility entries: Main Facility Building 87 and Annex Facility Building A1.
Main Facility
The Main Facility includes four design options to provide security enhancement at the facility's main entry (Building 87). Design Options 1 and 2 provide renovations to the existing entry buildings, including Building 87, along with a secure corridor connecting the buildings. Design Options 3 and 4 provide construction of a new entry building to consolidate all entry operations into one location, with a recommendation to construct the entry building outside of the facility perimeter and adjacent to the existing Building 87.
Items taken into consideration included:
Facility security and daily operations during construction
Separating visitor and facility staff processing while providing sufficient space for both
Minimizing staffing required for entry operations
Maintaining current parking availability
Means of control for visitors and facility staff entering the facility
Separation of the weapon pass from incoming visitors and facility staff
Annex Facility
The design recommendation for the Annex Facility is to provide enhanced security at that building's main entry (Building A1), including additional security gates, as well as additional measures to secure the control room.
Items taken into consideration included:
Security of the existing control room
Means of control for visitors and facility staff entering the facility
Separation of the weapon pass from incoming visitors and facility staff
State Historical Preservation Office (SHPO) requirements for renovations to the exterior of the building