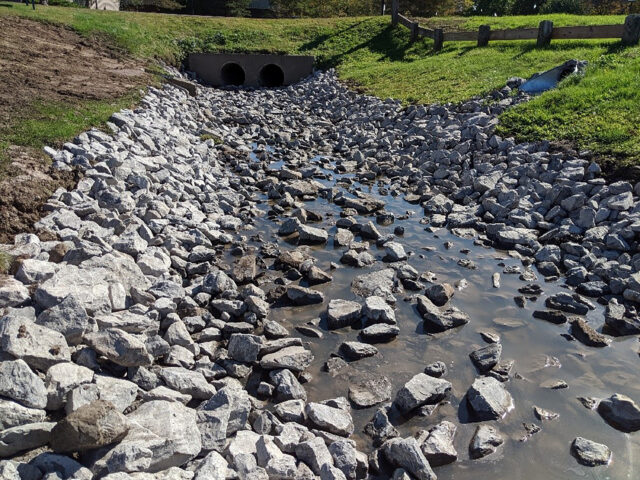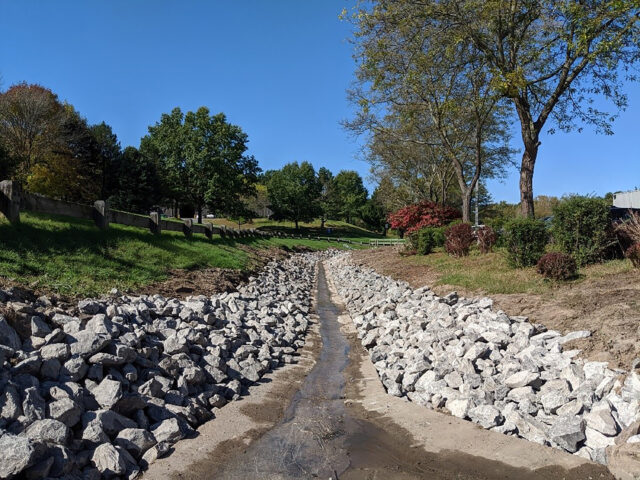 Fishers Run Phase 2 Drainage Improvements
Restoring a Channel to Original Conditions and Preventing Future Bank Erosion.
LaBella assisted with the analysis and design for Phase 2 of the Fishers Run drainage improvements. This phase consisted of repairs to a drainage channel along Fishers Run Road, which is located in an industrial complex in the Town of Victor, NY. Over the years storms with intense rainfalls caused the channel to become silted in, leading to a rerouting of the thalweg, bank erosion, and minor flooding issues.
The goal of the project was to restore the channel to original conditions and prevent future bank erosion. A hydrologic analysis of the area was performed to determine peak flows within the channel. The channel reach was then modeled in HEC-RAS to determine the hydraulic variables necessary for design of the repair measures.
The final design included regrading of the channel to expose an original concrete gutter, along with installation of riprap along the channel embankments up to the approximate bankfull elevation. Permanent check dams were also proposed to create sediment deposition areas for maintenance purposes, and a plunge pool at the downstream end of the reach to prevent erosion.
In addition to the engineering analysis and design, LaBella also performed construction administration services for the Town. This included preparation of bid documents, bid review and contractor selection, contract execution, and pay application review.
LaBella provided inspection services throughout construction to ensure compliance with the design plans. Construction lasted 3 weeks and was completed on time.
Featured Civic Infrastructure Projects
View more