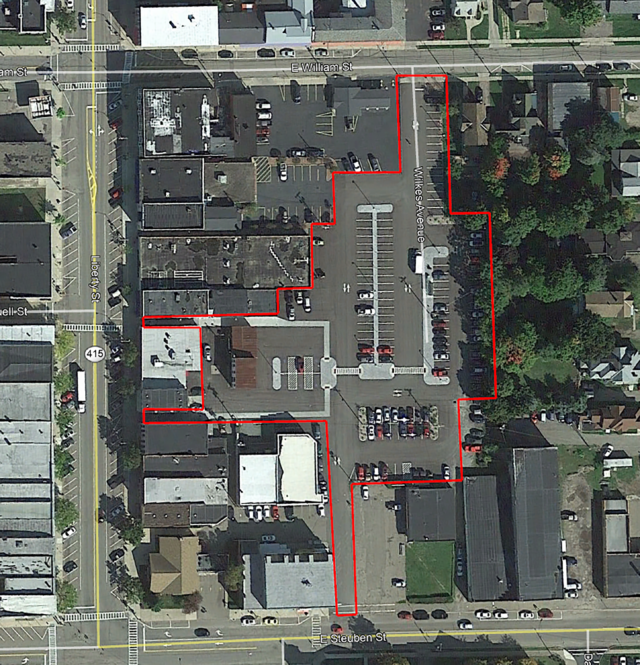 Municipal Parking Lot and Sidewalk Reconstruction
Paving the Way for Businesses and Community Events in the Village of Bath
LaBella was selected by the Village of Bath to provide full-service design and construction administration services for a municipal parking lot and sidewalk reconstruction project in the heart of the Village.
The project involved the reconstruction of a 1.8-acre parking lot and associated sidewalks, as well as the addition of new pedestrian walkways in the adjacent Pulteney Park. The reconstruction of the heavily damaged lot, addition of a bus stop shelter, and enhancement of the adjacent park promotes businesses in the area and community events in the park.
The scope of work included new paving, stamped and permeable pavement sidewalks and ADA access paths, storm utility infrastructure, lighting design, and coordination for parking meter and bus shelter designs in a complex site intertwined with adjacent businesses.
LaBella was involved in the project from start to finish, assisting the Village with conceptual layouts and optimizing/maximizing parking through final design and construction. The project was funded by the US Department of Agriculture and our team prepared all necessary forms and inspections required for funding.
We also utilized permeable pavement design to promote green infrastructure. The design conformed to New York State Department of Environmental Conservation (NYSDEC) regulations for runoff reduction, water quality treatment, and storage. In addition, our team prepared a Stormwater Pollution Prevention Plan (SWPPP) to outline conformance with NSYDEC's regulations and obtained appropriate permit coverage.