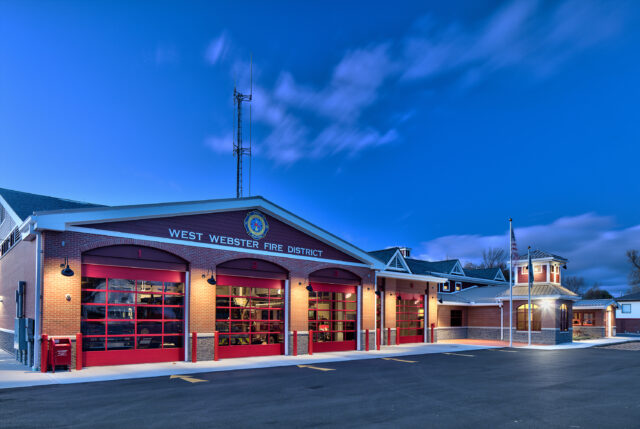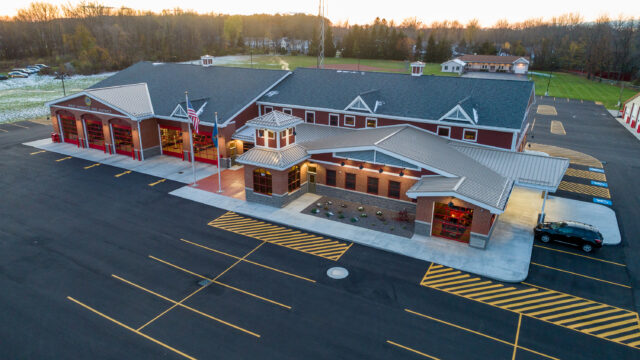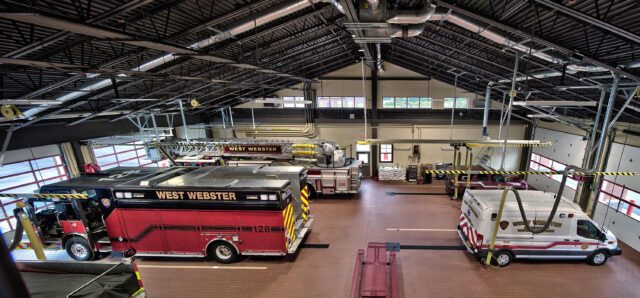 West Webster Fire District – Station No. 1
West Webster Gets New First-Rate Fire Station for First Responders
LaBella worked with the West Webster Fire District to complete a large, state-of-the-art renovation project at the Fire District's Headquarters, Station #1. The starting point for this project was a comprehensive facility assessment study by LaBella, as well as referendum services and public forums, to determine the most appropriate and cost-effective way to address the building's deficiencies to serve the needs of the community for the next 30 plus years. The station was originally built in 1966 and was enlarged with additions in 1979 and 1993. The existing station was undersized for the fire, rescue, and emergency medical services that operate from it, and many of the original and repaired building systems were insufficient for the building's current functions.
In conjunction with the Fire District, our team prepared a public presentation about the station's deficiencies to inform taxpayers about the need for station replacement. For example, the garage clearances could not accommodate the existing trucks as modern rigs are larger than those of the past. Additionally, the previously co-ed bunk room was not nearly large enough for the growing number of employees who occupy them. Heating, cooling, roofing, and windows were also in disrepair or inefficient, an important consideration for a building that is always occupied.
After the study was completed and funding established, the decision was made to design a brand-new building. Working closely with the Fire District, we assembled a new program to fit their current needs – a new 30,720 sq. ft. facility that was comprised of two stories, a basement, and a mezzanine. One of the Fire District's top priorities was providing a large meeting room for the community and their district meetings. Additional design highlights included enhanced security, a new command center with visibility to all the truck bays, bunk rooms, offices, a commercial kitchen, and a complete site and parking redesign.
Phasing was an important component of this project as the Fire District would need to be able to work out of the current building while the new station was being constructed on the existing site. Since the existing facility needed to remain operational, the apparatus bay portion was constructed first during Phase 1. Upon completion, the Fire District relocated their trucks to the new apparatus bay. Phase 2 involved the demolition of the existing building and site work for the new building, including exaction for a new basement, while Phase 3 encompassed the construction of the new office side of the station.
Image Gallery