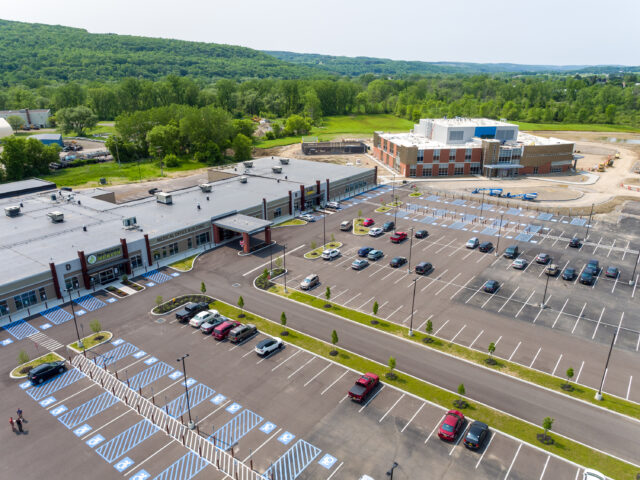 St. James Hospital – Medical Office Building Primary Care Expansion
Expanded Medical Campus Offers Community a Comprehensive Suite of Medical Services
LaBella Associates provided design and engineering services on several projects at the new URM St. James Hospital campus in Hornell, NY. These projects included a medical office building, a new rural micro-hospital, and a facilities building.
Medical Office Building
The medical office building is a 112,000 sq. ft. former retail plaza building, of which 64,000 sq. ft. houses medical suites from four separate health systems – University of Rochester Medical System, St. James Hospital, Jones Memorial Hospital, and Oak Orchard Community Health –under one roof to provide a comprehensive suite of medical services to the Hornell community.
Medical suites designed as a part of this project include the following:
University of Rochester Medical System – Primary Care, Specialties Suite
St. James Hospital – Urgent Care, Women's Imaging, Orthopedics, Physical and Occupational Rehabilitation, Cardiac Rehabilitation, Blood Draw, Dental
Jones Memorial Hospital – Women's Clinic
Oak Orchard Community Health – Primary Care, Jones Memorial Women's Clinic, Dental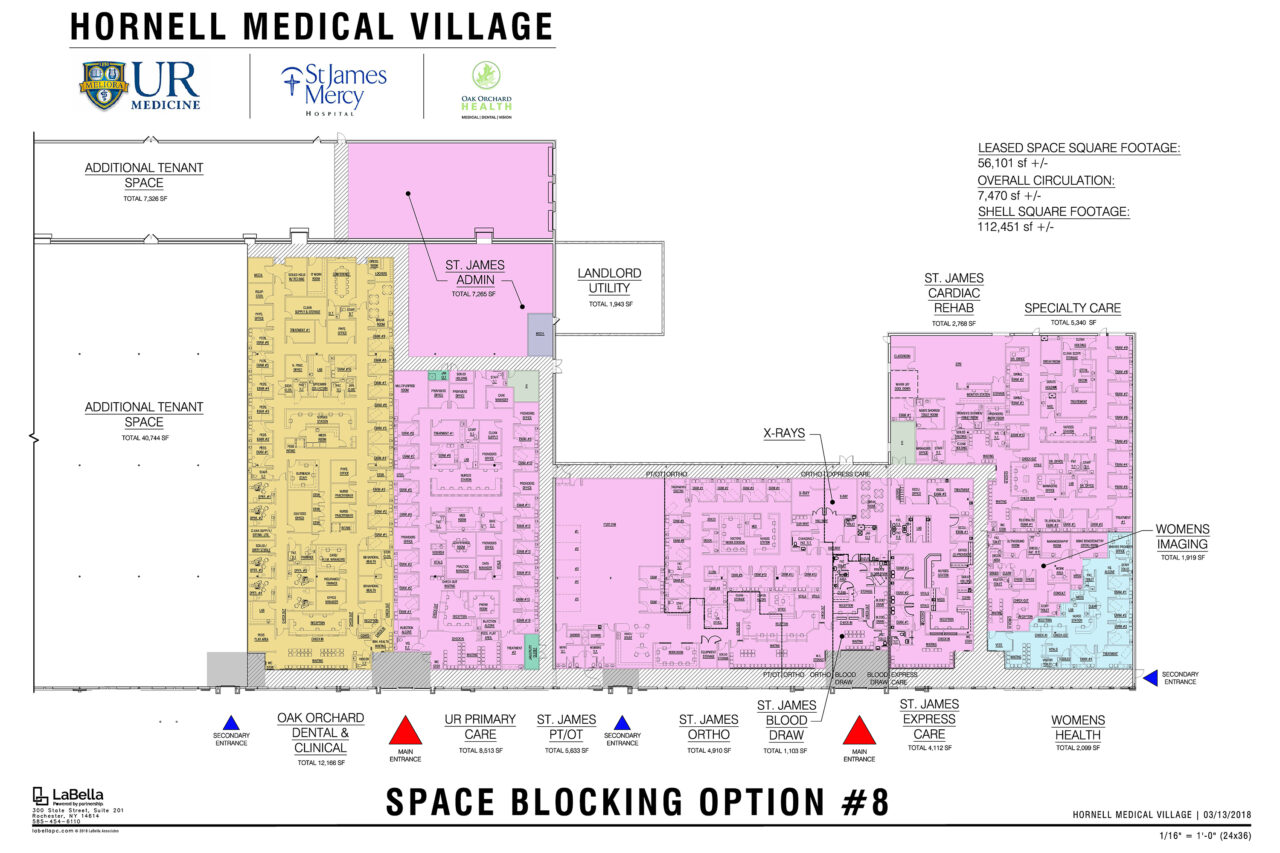 New Rural Micro-Hospital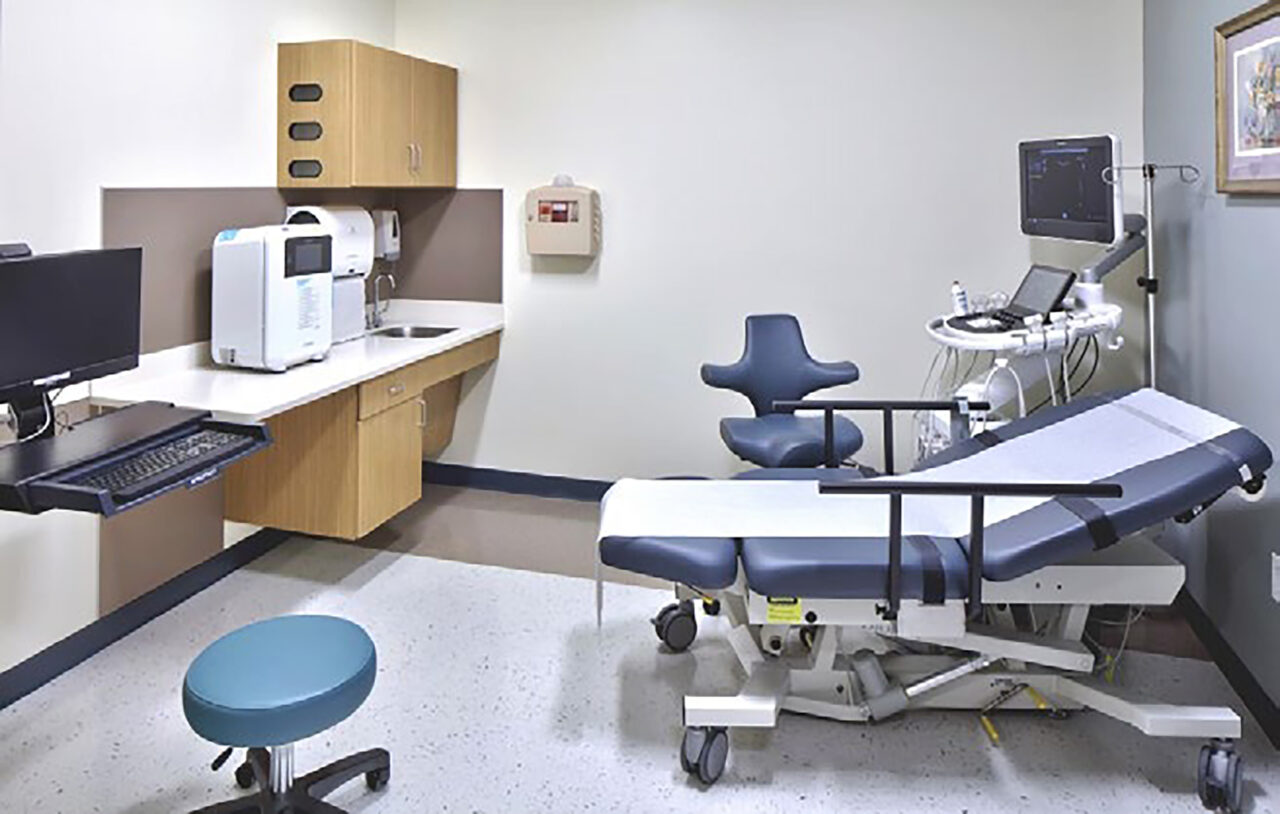 The client also requested that LaBella provide health code oversight and construction administration services for a new 85,000 sq. ft., two-story rural micro-hospital, which features a mechanical penthouse and is designed to function as a standalone facility. The micro-hospital has 15 inpatient beds, two procedure rooms, two operating rooms, a state-of-the-art Emergency Department, a Sterile Processing Department, an Imaging Department, and a laboratory, as well as a fully functioning kitchen and a dining facility.
Facilities Building
LaBella was selected to design a 5,000 sq. ft. freestanding facilities building that serves the new URM St. James Hospital campus in Hornell, New York. This 5,000 sq. ft. building is located adjacent to the hospital building that was constructed simultaneously. The hospital building was adequately designed to house and receive medical and administrative supplies but was not sufficient in size to handle infrastructure maintenance supplies or site equipment. Additionally, the facilities staff required space along with a maintenance repair shop.
An economical solution was desired due to concerns over the budget for the campus development. After exploring several options, the Owner directed the design team to prepare drawings for a wood pole barn style building. The result is a functional, well-built building with a one-story administration level and a two-story maintenance bay that includes a storage mezzanine. The program for the administration section includes office space, dispatch, a multipurpose breakroom, a key shop, and secured storage. The maintenance bay is designed to store most of the site equipment, and features a hot work room, a maintenance workroom, and sufficient storage for maintenance supplies.
The HVAC systems were basic in nature and include a forced air furnace in the administration area and overhead ceiling-mounted heating units in the maintenance bays. Furthermore, the building's electrical system was backed by an emergency generator to support operations in the event of a power failure.