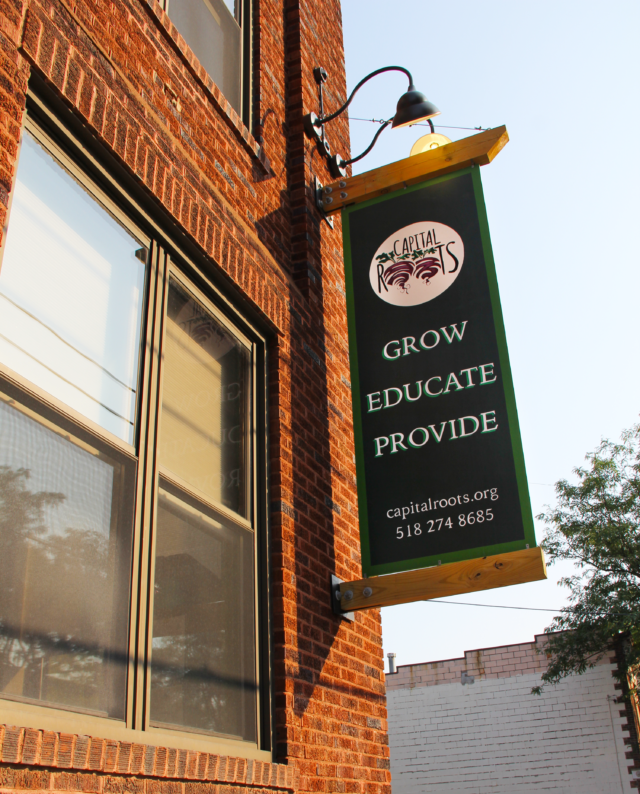 Capital Roots Urban Grow Center
Green Infrastructure at the Urban Grow Center
Capital Roots is a nonprofit community service organization that helps residents of Albany, Rensselaer and Schenectady Counties improve their neighborhoods through community gardening, healthy food access, and urban greening programs.
The intent was to renovate an existing vacant, historic building into a new Urban Grow Center — the organization's new main office and distribution center. LaBella prepared preliminary reports, concepts and cost estimates to support a successful Green Innovation Grant Program (GIGP) application through the New York State Environmental Facilities Corporation (EFC). Following the grant award, LaBella developed detailed construction documents and assisted with SEQRA administration and the regulatory review process with the City of Troy.
In keeping with the mission and values of Capital Roots, LaBella incorporated green infrastructure techniques into the adaptive reuse design. A permeable pavement parking lot, rainwater harvesting (cistern) and gray water reuse systems, and a bioretention/rain garden facility surround the exterior of the building while a green roof sits atop the building.  These techniques, which were the first of their kind in Rensselaer County, serve a dual purpose as educational tools for visitors to learn about stormwater. Construction of Phase 1 of this project was completed in 2014.
LaBella continues to work with Capital Roots for Phase 2 of the Urban Grow Center. The work is currently underway, and will add a community kitchen, a public market, an education hub, a greenhouse, a grass paver parking lot, and a porous pavement parking lot.
Featured Community Non-Profits Projects
View more