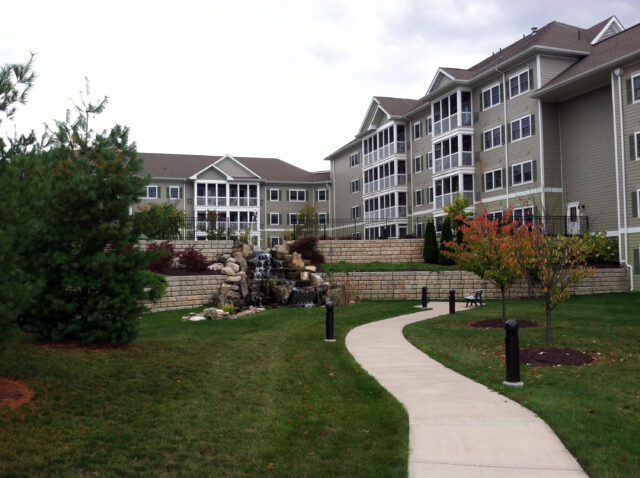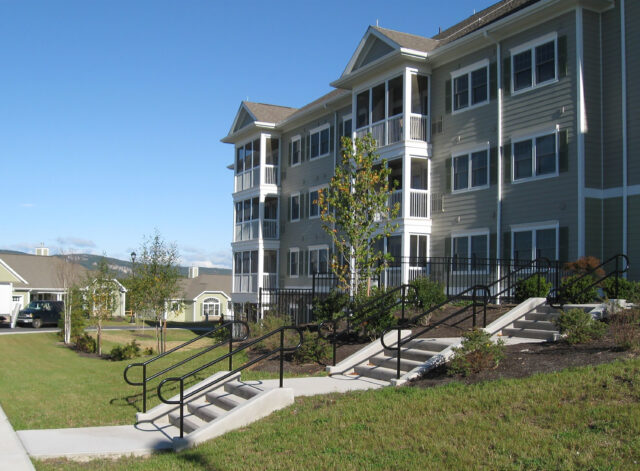 Woodland Pond at New Paltz – Continuing Care Retirement Community
New Senior Living Community Provides Supportive Care Options in the Mid-Hudson Valley Region
LaBella provided full design, engineering, ecological, environmental, landscape architecture, planning, survey, and construction administration services for the Woodland Pond Continuing Care Retirement Community in the Village of New Paltz, New York.
The Woodland Pond Continuing Care Retirement Community is a master planned retirement community based on the fundamental design principals of universal design and sustainable design. The community includes 167 independent living apartment units, 24 independent living cottage units, 60 enriched housing units, 20 dementia living units, and 40 skilled nursing units.
In addition, the community contains a variety of amenities, including three dining facilities, a swimming pool, a community center, a recreation center, conference rooms, and office and maintenance facilities. The community also has a common courtyard garden space with a pond and a waterfall feature, outdoor dining spaces and recreational facilities, a walking path into the Mill Brook Preserve, a library, a café, and a banking facility.
The LaBella design team utilized their expertise in sustainable design development to create a cluster development for this 357,000 sq. ft. continuing care retirement community. The existing site consists of more than 88 acres of orchards fields, Federal Wetlands, and mature forest. The site design avoided wetland resources, maximized buffer areas, and preserved habitat by restricting site disturbance areas and maximizing open space. Out of the 91 acres of land owned by the project sponsor, 56 acres were placed in a conservation easement to the Wallkill Valley Land Trust and will become part of the Mill Brook Preserve.
Currently, LaBella is providing survey, environmental, geotechnical, design, permitting, and construction phase services for the addition of three new cottages to the existing campus in order to meet an increase in demand.
Image Gallery