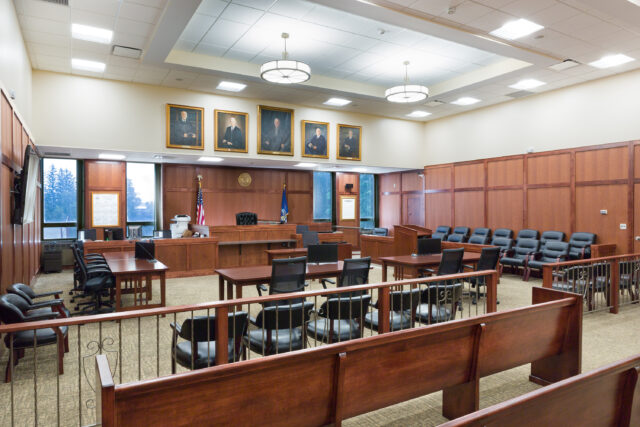 Cattaraugus County Courthouse Renovations
Technology and Accessibility Upgrades Streamline Courthouse Operations
The Cattaraugus County Courthouse was an outdated structure – TVs had to be wheeled in to play video, evidence was projected using transparencies, and the building was out of compliance with ADA standards. LaBella worked to renovate the building and update structural and technological features.
One key focus was updating the building's technology to keep in line with national trends, as well as to come into compliance with ADA standards. Infrared assistive listening devices were installed to accommodate the hearing impaired and the courthouse was outfitted with LCD screens to show court evidence.
In addition, engineers equipped the jury box, judge's bench, and attorney tables with numerous audio/visual, data, and power connections, making it easier to share evidence and data within the courtroom. For the most part, the new technology and digital ports are hidden to maintain a "dignified" presence in the courtroom, which was updated with cherry veneer wall panels and new furniture.
Design challenges included the tightness of the area, making ADA compliance a difficult problem to solve. Due to the importance of sight lines in the courtroom, the judge's bench was raised and an ADA-compliant ramp was designed to give the judge a height advantage.