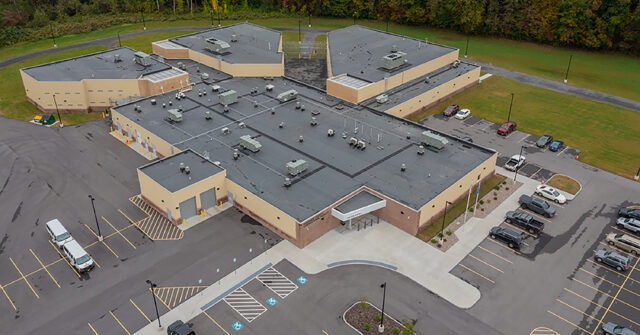 Herkimer County Correctional Facility
20 Years in the Making, Herkimer County's New Jail is Now Complete!
In 1999, members of LaBella's criminal justice team were selected to do a study to start the process for building a new correctional facility. Little did anyone know at the time how difficult it would be to find the appropriate site that would comply with budget issues, archaeological concerns, sewer and water connections, and local zoning requirements. But finally, in April 2021, the new facility was ready for operation.
The challenge of this project was to design a new, direct supervision jail facility on a former shopping center site in the Village of Herkimer. The 74,000 sq ft. facility features a three-housing pod layout that can accommodate 130 inmates, with the capacity for internal growth up to approximately 145 inmates.
The building utilizes the exterior envelope as the maximum-security barrier and does not require an additional perimeter security fence. All exterior recreation yards are nested within the complex and not outside the secure building perimeter.
LaBella worked closely with Herkimer County to design an economical and durable facility that is economical but durable, striking a balance between providing low maintenance materials while meeting the rigorous needs of a correctional environment.
Image Gallery