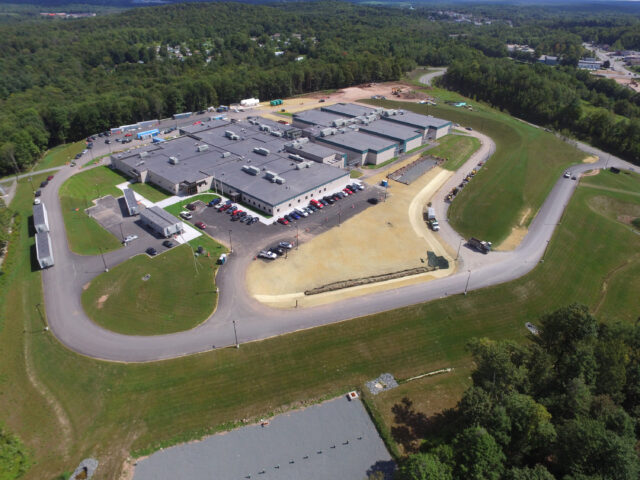 Sullivan County Jail and Public Service Building
Jail Over 100 Years Old Finally Gets Replaced
Sullivan County's core jail facility, which was over 100 years old, has undergone additions and renovations over the decades but was well overdue to be completely replaced. The County decided to accept a Bid Alternate to make the campus into a public safety building that also incorporates all departments of the Sheriff's administration.
LaBella's comprehensive scope of work for this project included site analysis and selection, coordination of the NY SEQR approval process, programming, facility design, construction management and administration, and transition planning once the facility was ready to be occupied.
The new 155,000 sq. ft. building contains state-of-the-art direct supervision housing pods along with all jail operational requirements, including intake, visitation, medical, kitchen, laundry, and on-site maintenance functions. With flexibility in mind, the design of the County's new jail houses an initial 256 beds with the option for future expansion allowing for an additional 304 beds. Support services were also designed to grow with the facility.
Sullivan County's new jail, which meets all New York State Commission of Correction regulations, also features inmate educational programs and services, central security and control capabilities, and space for an entry lobby and waiting area.
In addition, the facility houses the County Sheriff's full-service administration operations, including civil and investigations divisions, dispatch and radio tower functions, road patrol, intake/admissions and processing, records, evidence processing, a drug task force unit, and training spaces.
After years of struggling to find a new site, negotiate with the nearby village for off-site sewer and water services, and procure the funding for the projects, the County's new 256-bed jail and public safety facility finally opened in Spring 2020!
Image Gallery