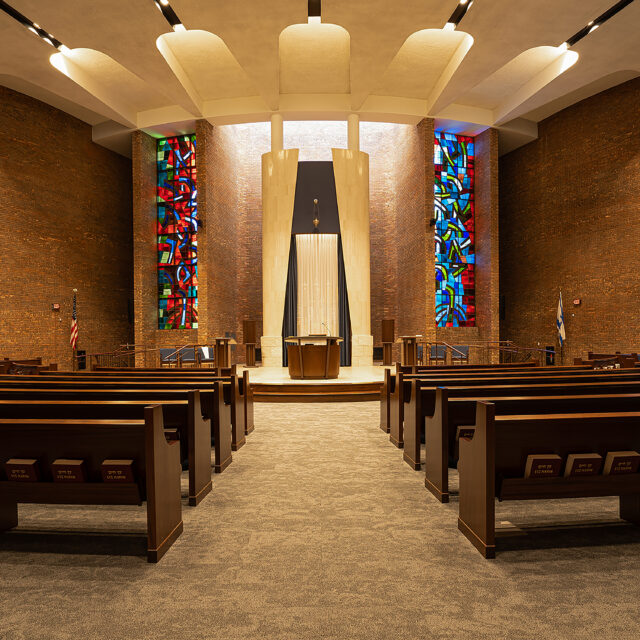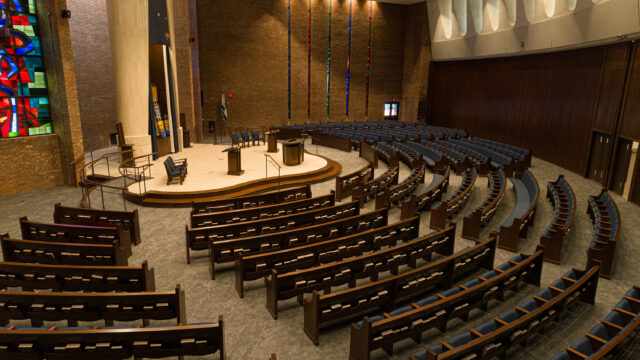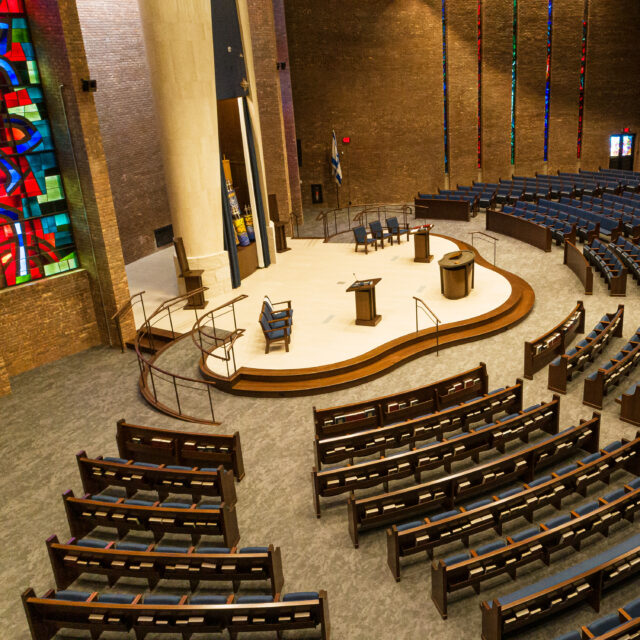 Temple Beth El
Enlivening Temple Beth El
Temple Beth El is an iconic piece of Rochester's history, its sanctuary built in the 1960s with sweeping forms to represent an open book. In renovating the space, LaBella's approach was to honor the spirit and beauty of the existing, while updating finishes and areas that no longer functioned to the benefit of the congregation.
LaBella's goals were threefold: to increase accessibility, create a more intimate environment that engages congregants as participants, and enhance prayer and spirituality. In the main sanctuary space, this meant new seating, enhanced lighting, a state-of-the-art audio system, and a reconfigured bimah platform. In meetings with the Design Committee, Rabbi, and Hazzan, the design team learned that the existing bimah functioned as a stage – congregants felt that they were spectators, not participants. The revised design projects out into the seating and is lowered, so that the experience becomes more personal and in-the-round.
The original platform did not provide any ADA access for those with disabilities (a temporary lift had been added but was loud and humiliating for those who required its use). The new platform incorporates ramps on either side for easy access, seamlessly integrated into the design. The organic form of the bimah is reflective of the overall form of the sanctuary, while details in the railings and furniture echo motifs found in the existing radial ceiling. The new seating will not only allow for increased space and comfort, but also improved sightlines and an overall sense of inclusivity.
On the bimah platform stands the Ark, the focal point of the sanctuary, which houses the Torah scrolls and visually takes the abstracted form of a scroll. With sensitivity to the existing design, the interior millwork and base were recreated to meet the new lower level of the bimah platform. Finishes were updated with a nod to the originals, featuring stone and sapele wood. The bimah furnishings, including a Torah table and podiums, were designed to complement, but not distract from, the Ark.
By attending services during the High Holy Days, the design team saw first-hand how the multi-chambered space functioned. Movable partitions separate five main spaces, allowing for increased seating and attendance during holidays. As part of the renovations, those partitions were partially replaced and refurbished, ensuring that the sanctity of the space is maintained when interconnected.
Featured Religious Facilities Projects
View more