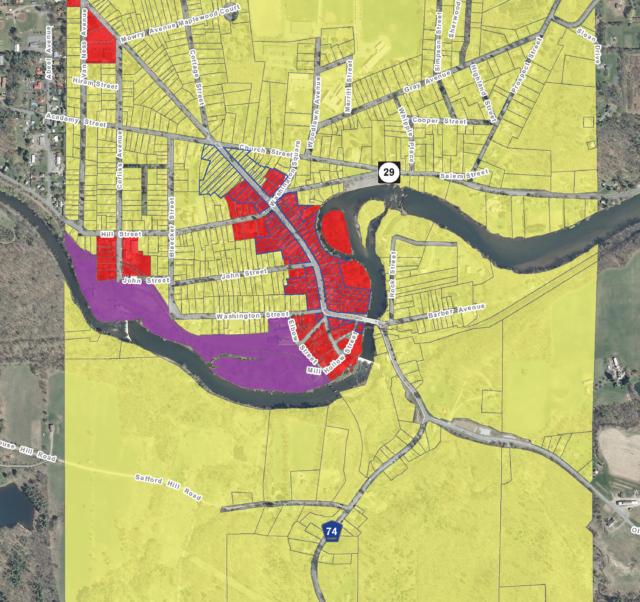 Village of Greenwich Streetscape Code Revision
Zoning Law Revisions Help Facilitate Sound Transportation Planning Practices
LaBella worked with the Adirondack/Glens Falls Transportation Council (A/GFTC) and the Village of Greenwich to prepare revisions to the Village's Zoning Law to address sound transportation planning practices, including Complete Streets and ADA compliance.
The Village currently has three zoning districts: Commercial, Industrial, and Medium-Density Residential. Main Street in the Village is generally a quaint, historic mixed-use corridor with buildings built to the street wall, featuring retail on the ground floor and residential spaces on the upper stories.
Changes of retail/commercial occupancy and growing residential demands on parking have increased the need for a new strategy for the parking and streetscape regulations currently in place. Additionally, there are several long-standing uses on Main Street that do not fit the traditional Main Street form, including several auto parts stores and auto repair shops.
In 2019, LaBella prepared the Village of Greenwich's Main Street Streetscape Plan, which established a vision for the Village's downtown that centered around creating a more walkable, pedestrian, and bicycle friendly Main Street while addressing parking efficiency measures.
To carry out that vision, A/GFTC and the Village of Greenwich selected LaBella to prepare updates to the Village's unique, non-traditional Zoning Law (zoning). Updates included the following:
Revising minimum parking requirements, including ADA parking
Creating a site plan review provision for future development
Developing supplemental design guidelines for all development along the Main Street corridor
Defining and regulating new uses (electric vehicle charging stations and food trucks)
Revising code definitions to improve public understanding
Digitizing a zoning map
Working with a Steering Committee that included A/GFTC, the Village Board, the New York State Department of Transportation (NYSDOT), and Village Zoning Board of Appeals members, LaBella conducted stakeholder interviews, hosted a public open house, and prepared draft and final Zoning Law Amendments and associated SEQR documentation.