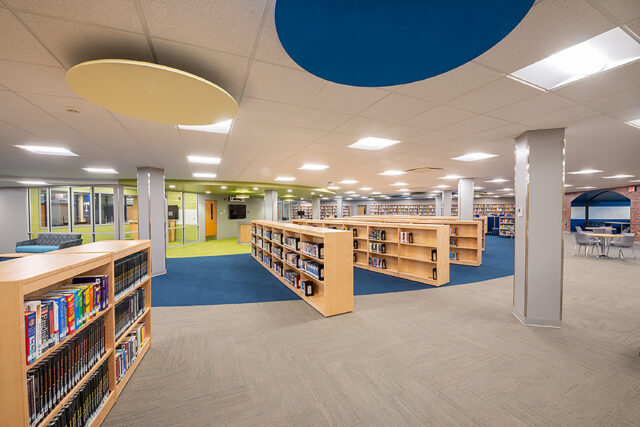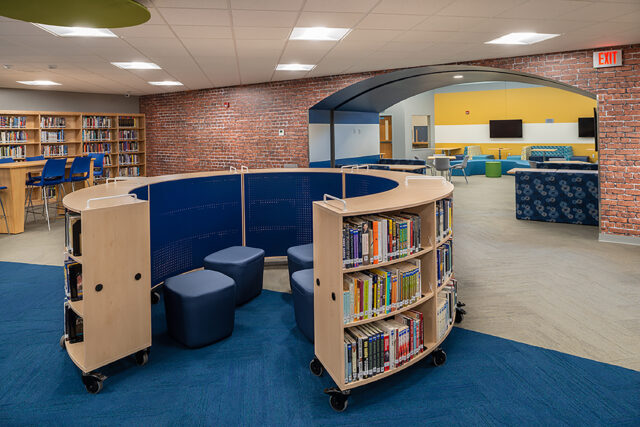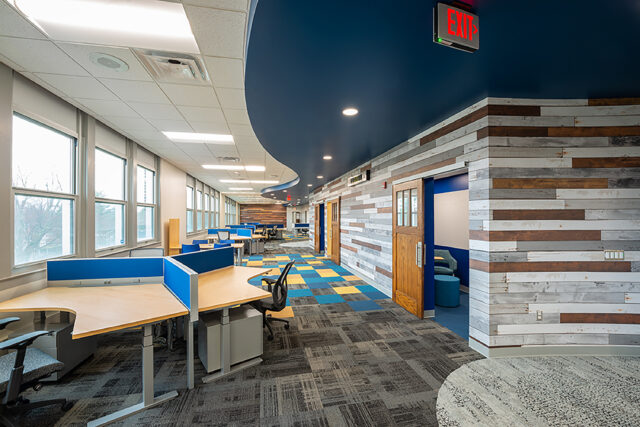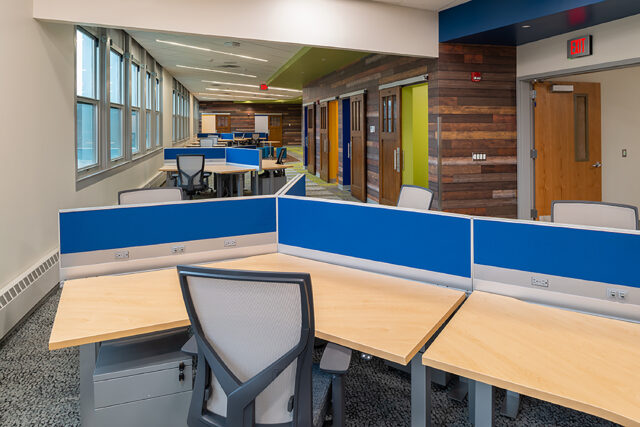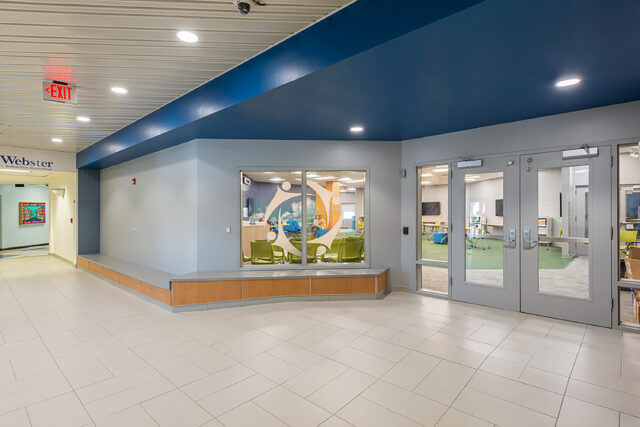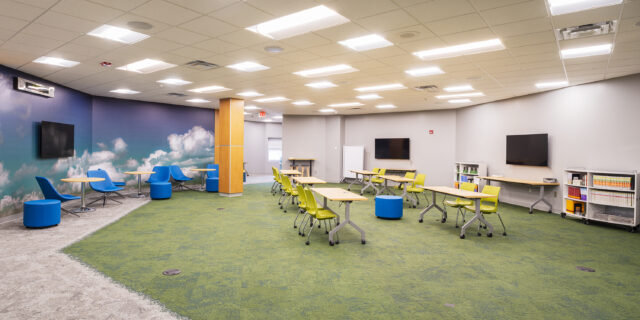 Technology Integration and Multipurpose Flex Space are Timely Updates to Webster's Library
The existing library at Webster Thomas High School underwent a full renovation and expansion, incorporating pre-existing structure to create a multifunctional, flexible media center that supports group or independent learning, tinkering, and technology exploration.
The new space incorporates a functional classroom surrounded by movable glass walls, allowing for separation during lessons as well as open integration into the media center at large. "Huddle rooms" provide students an opportunity to put their ideas together in small groups. The four rooms – each a different size to accommodate various types of projects – contain large windows looking into the media center, allowing for an inclusive atmosphere while still providing sound separations necessary for focused small group collaboration.
The media center also includes the "Titan Tech Bar" where students can take classes to fine-tune their tech skills while servicing student Chromebooks. Students can also hone their public speaking talents while producing the school's news program and broadcasting live in their new broadcasting studio. The entire media center features integrated technology, ample outlets, and screens consistent with Webster CSD's 1:1 pedagogy.
The aptly named "Skylight Café" is a sunny addition that was made possible by infilling a courtyard and capping it off with a sky-high shed roof. Windows reach high above adjacent roofs and allow for pools of natural light to fill the space, creating an open, bright atmosphere and giving the new student café and lounge its namesake.
Adaptability is a Key Function in All Areas of the Media Center
The media center's design promotes collaboration while still providing plenty of flexibility to sequester into smaller groups. All the furniture and bookcases are on easily movable casters, and several portions are equipped with folding or overhead glass doors to allow for either compartmentalized or open concept workspaces on a whim.
The possibilities for innovative configurations are endless, providing the District with the ongoing ability to reconfigure and reorganize the space to meet their needs on any given day, month, or year.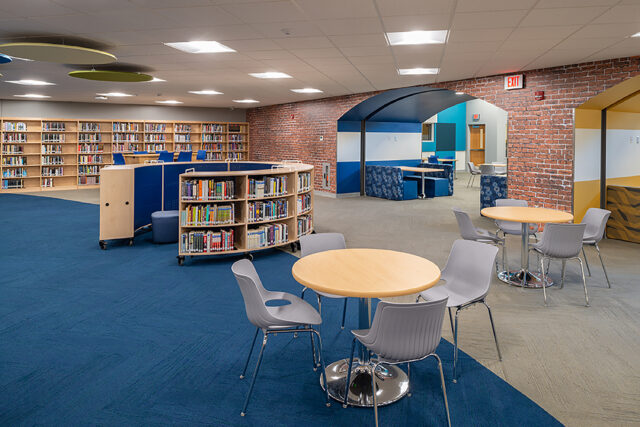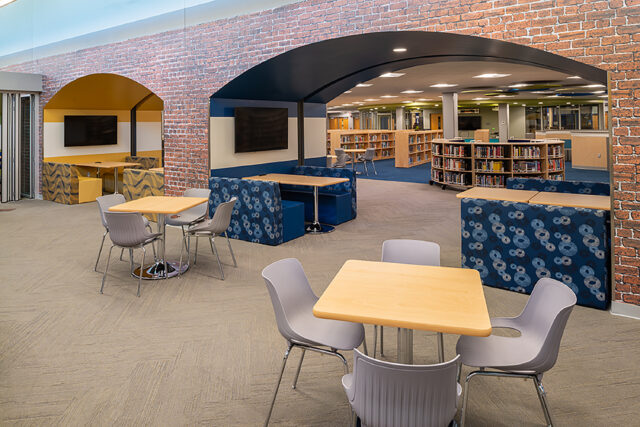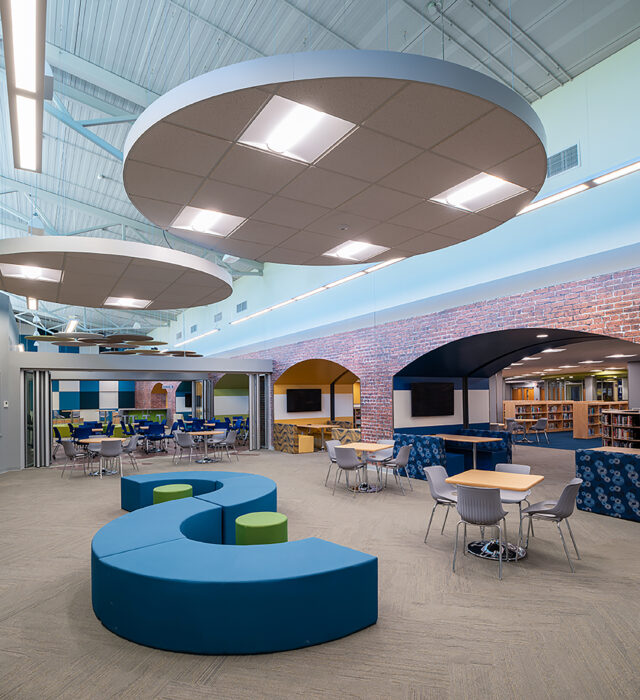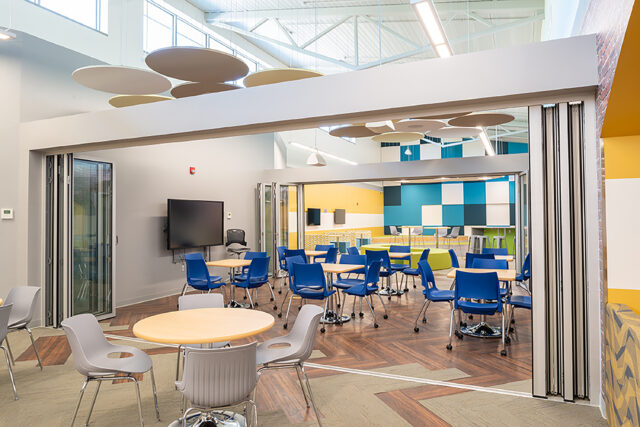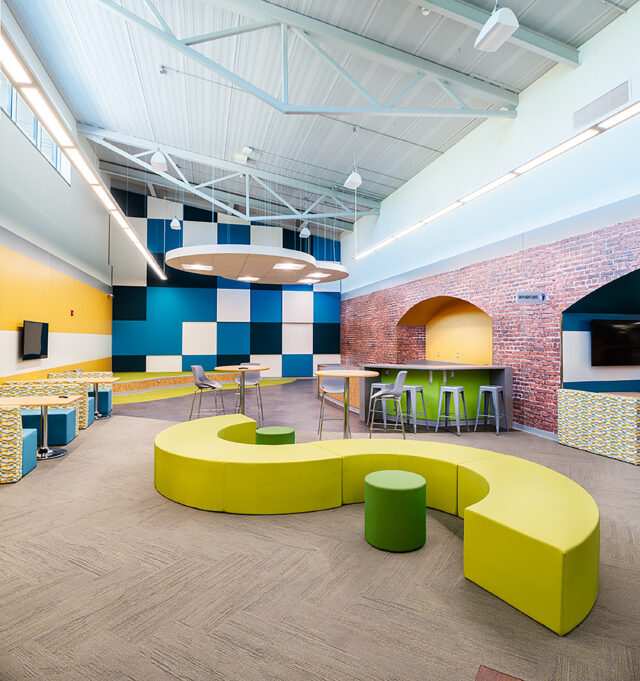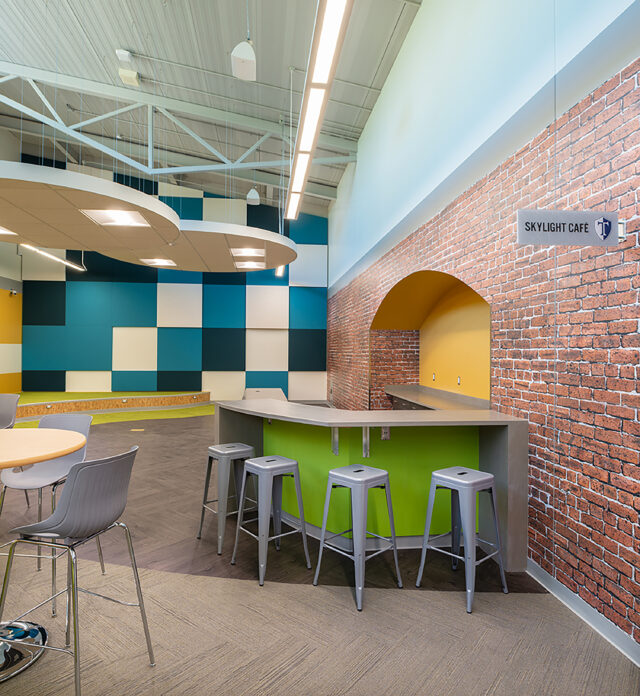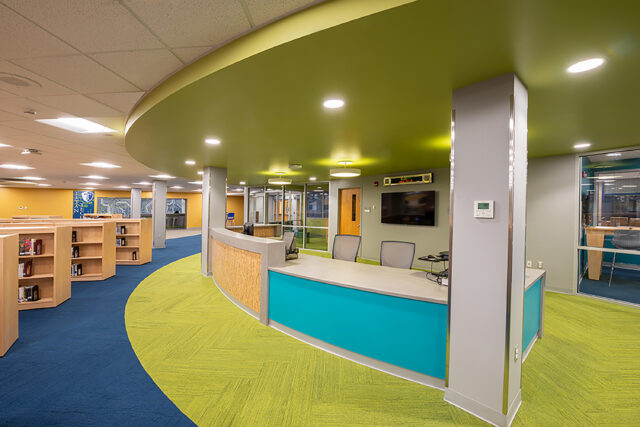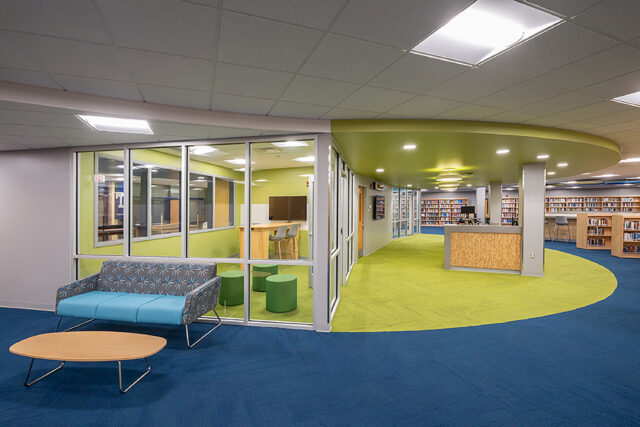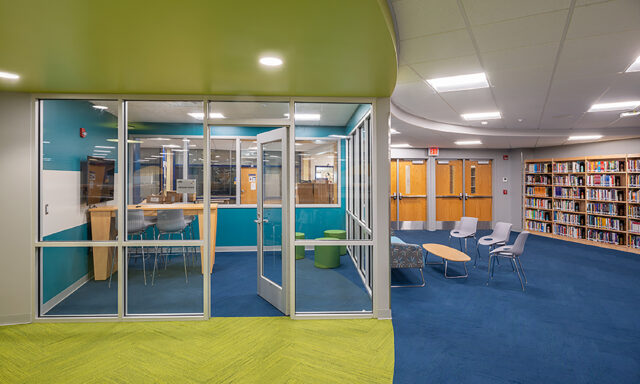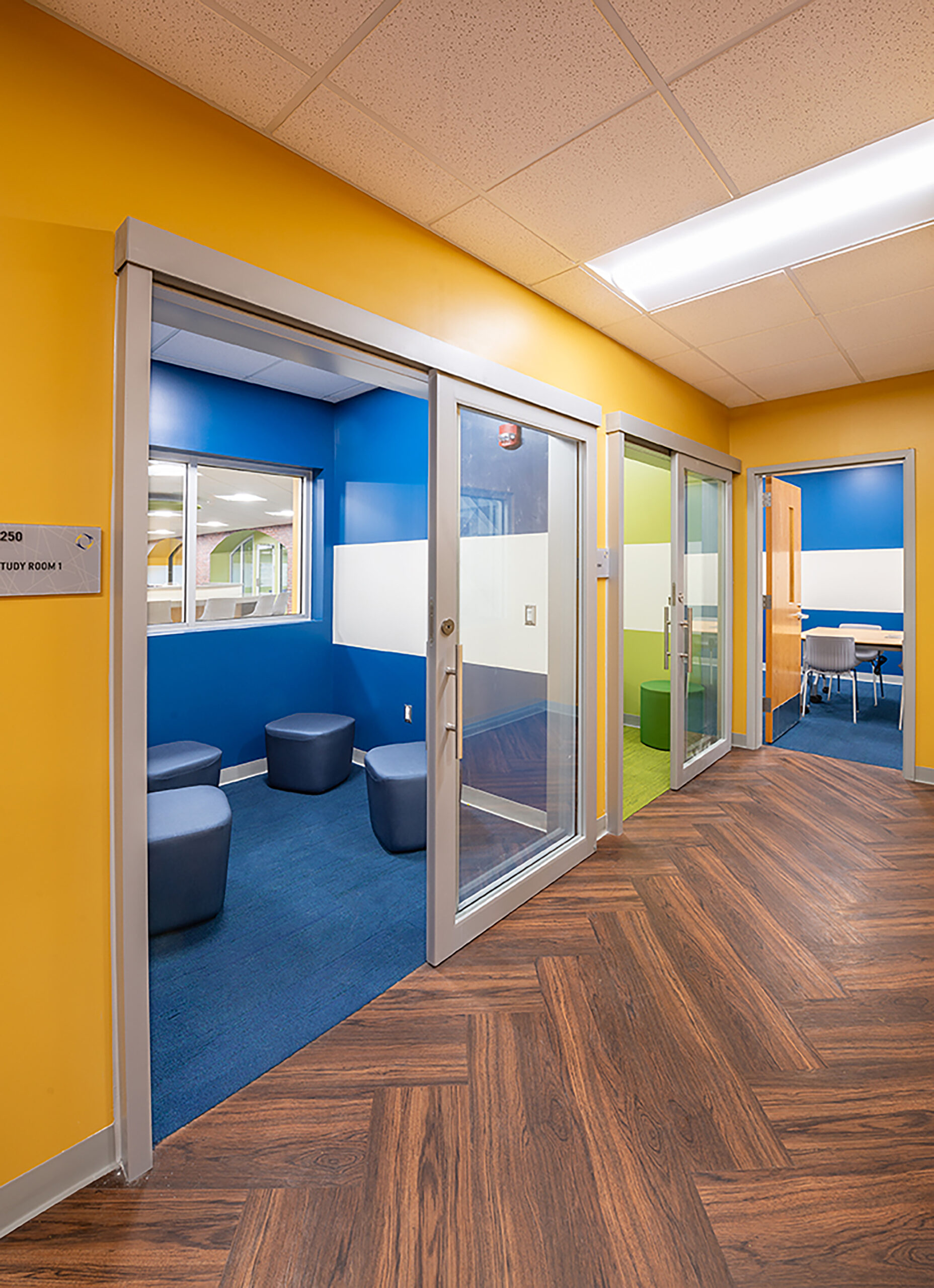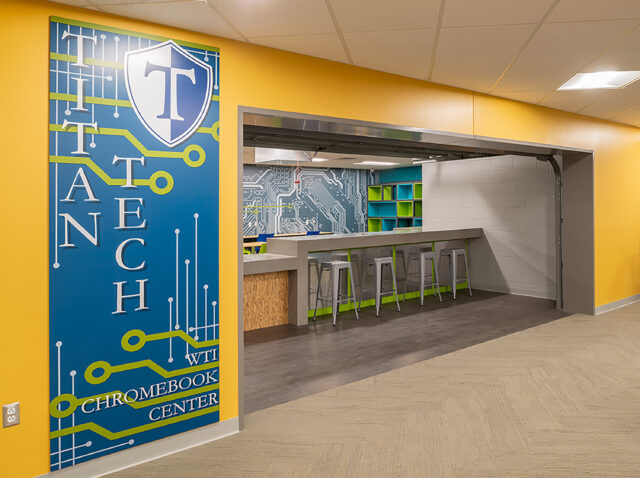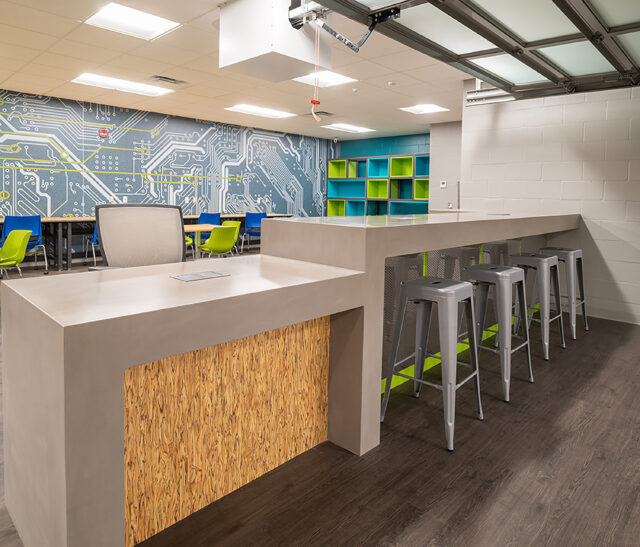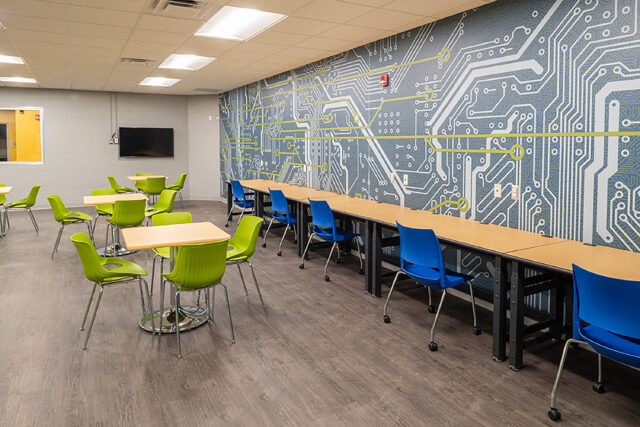 Natural Light and Texture Abound in Webster CSD's Administrative Offices
Prior to renovation, the layout of Webster CSD's administrative space featured traditional concepts, with enclosed offices located along the exterior walls. Inspired by a visit to Google, the District wanted to create a highly collaborative environment that stimulated creativity. Several distinct work areas were created to give each section a unique identity.
Informal collision zones were integrated into the furniture layout of the offices to promote an open and collaborative workplace. Otherwise, utilitarian spaces such as corridors were enlivened with meandering paths to promote an energetic work environment. For private meetings and heads-down work, small breakout rooms were moved toward the center of the space and maximized the amount of natural light flooding the workstations.
With an ever-present focus on the Webster community, the design of the suite highlighted school pride and references to the natural beauty of nearby landmarks. Biophilic elements such as rich wood textures, birch tree graphics, hues of blue and green, and meandering organic forms were incorporated to evoke the outdoor landscape.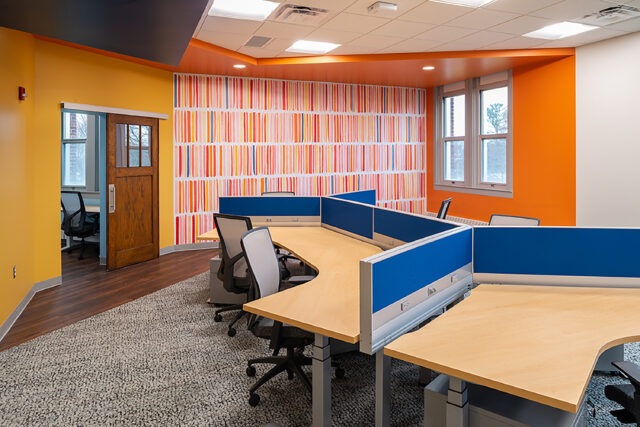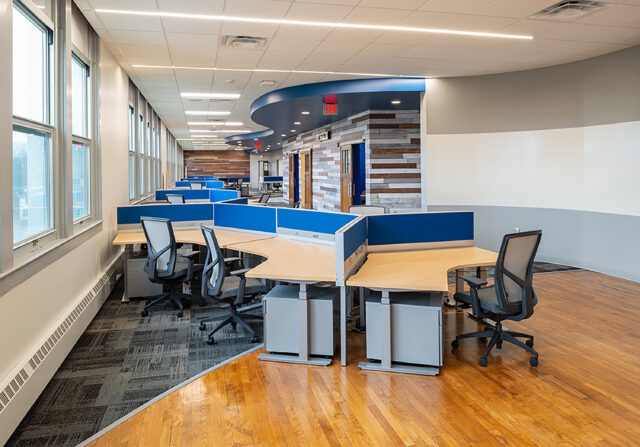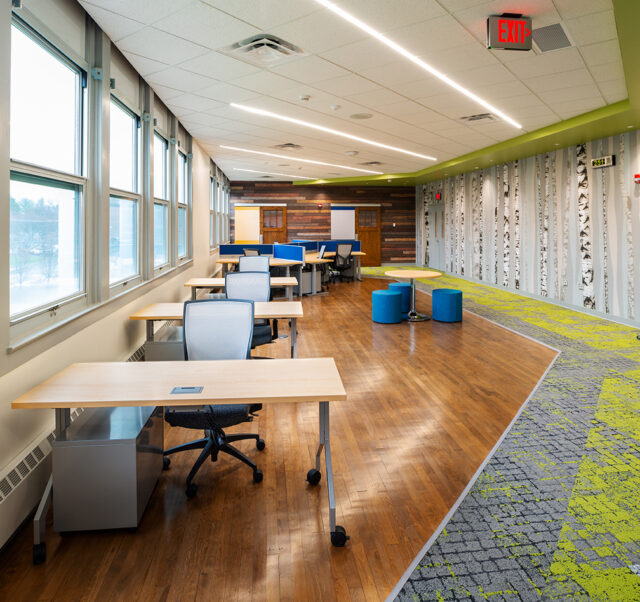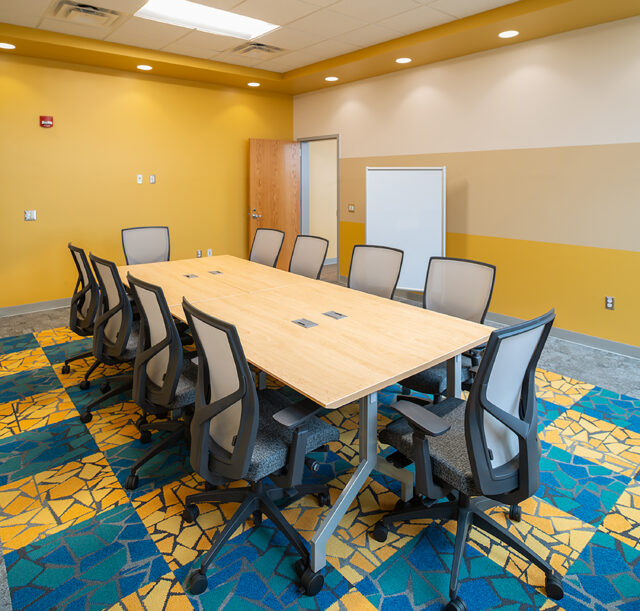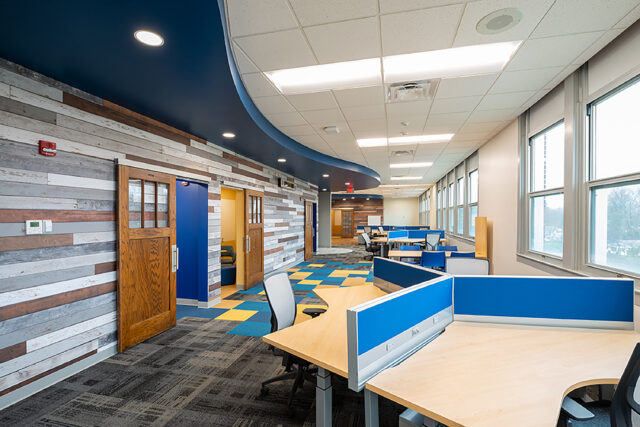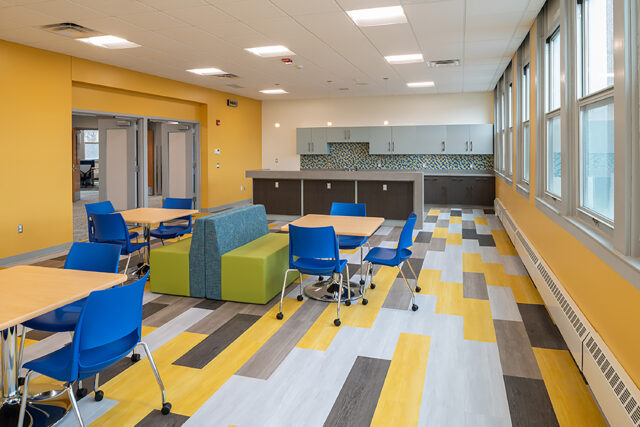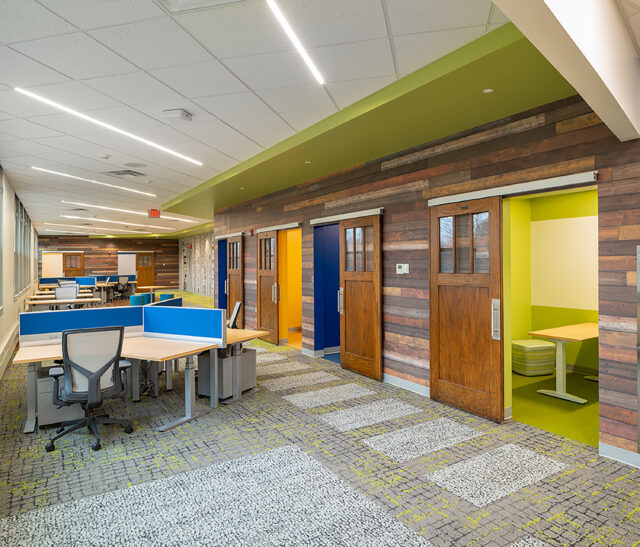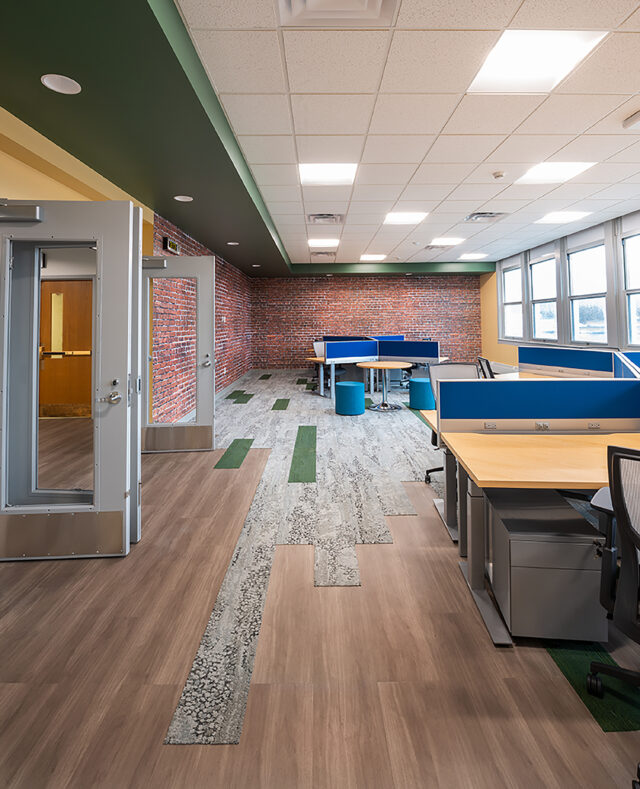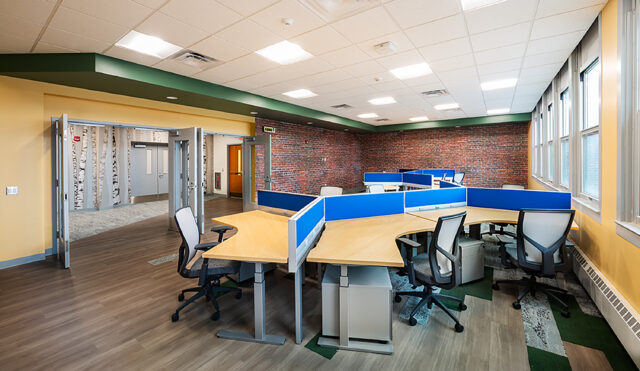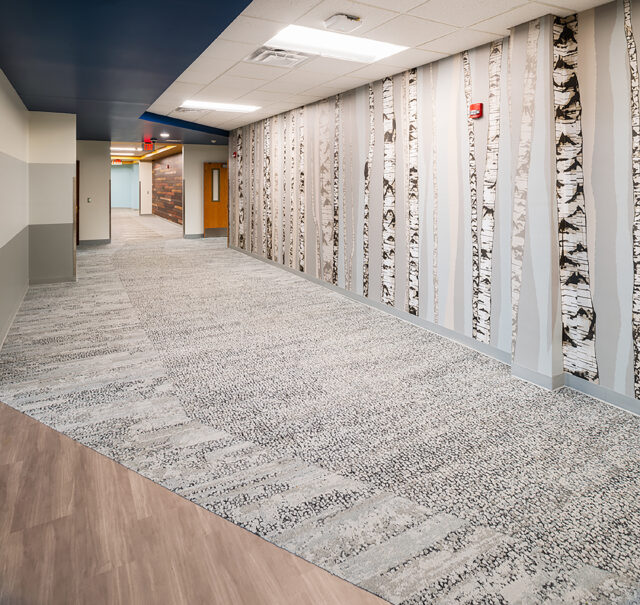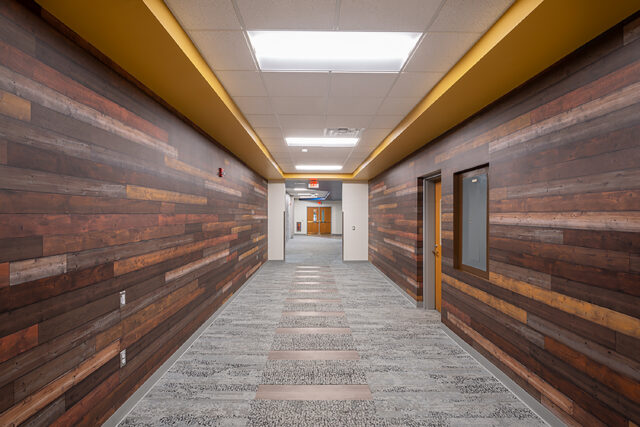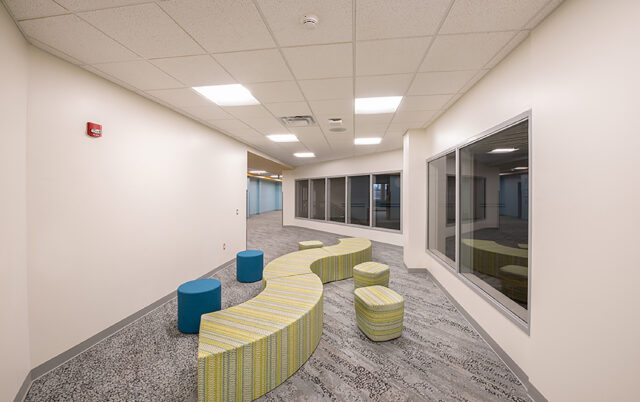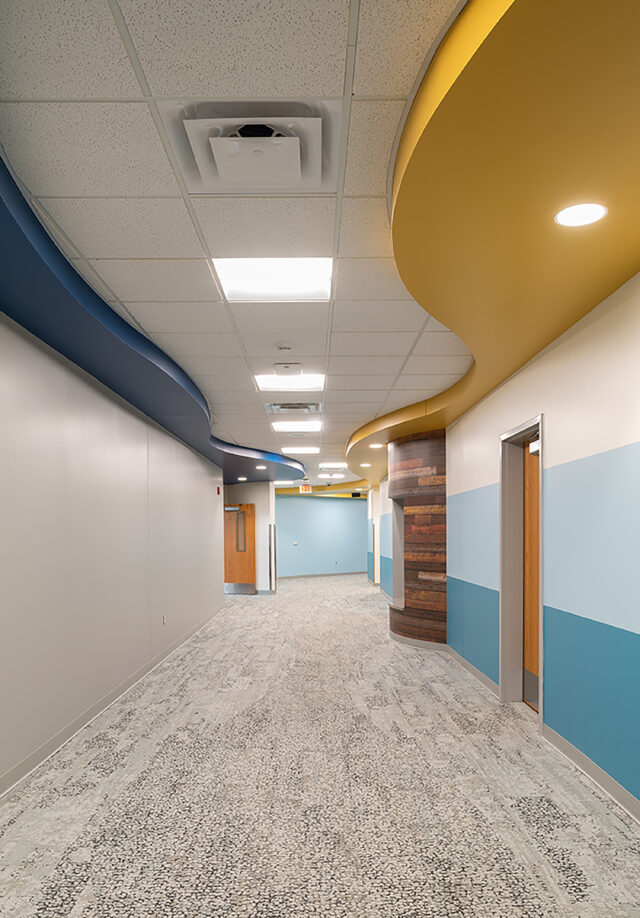 New Professional Development Center Creates Training Hub for Individual and Team Learning
LaBella worked with Webster CSD to repurpose their original auditorium into a Professional Development Center. The new training center features open space for large group seminars and smaller breakout rooms for individual training.
Visual connection throughout the space was important to the District to create a team environment. Storefronts into the individual training rooms and to the District offices above allows everyone to share in the training experience.
Previously enclosed windows were reopened, allowing natural light to spill into the formerly cavernous space. In addition, technology and furniture were upgraded throughout the space to accommodate the new flexible function.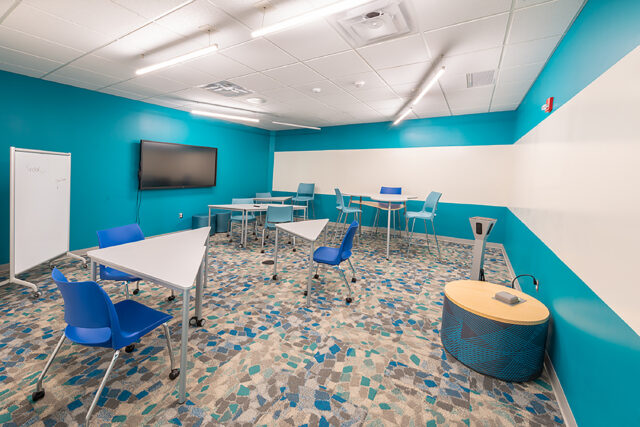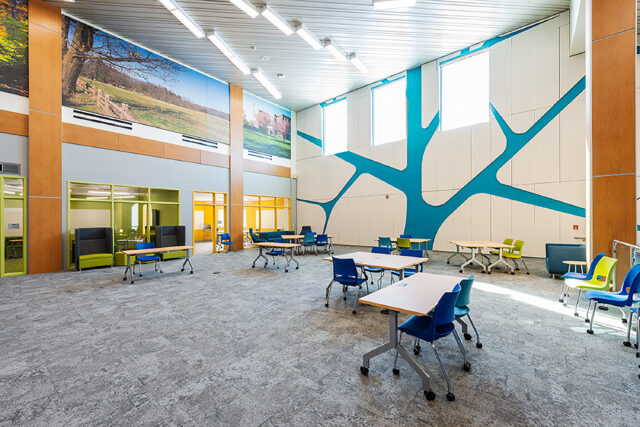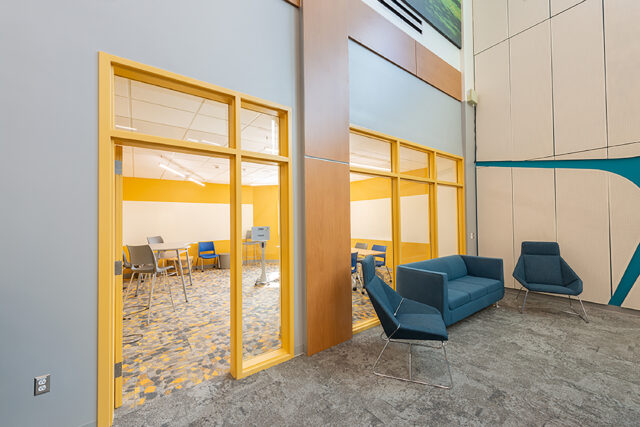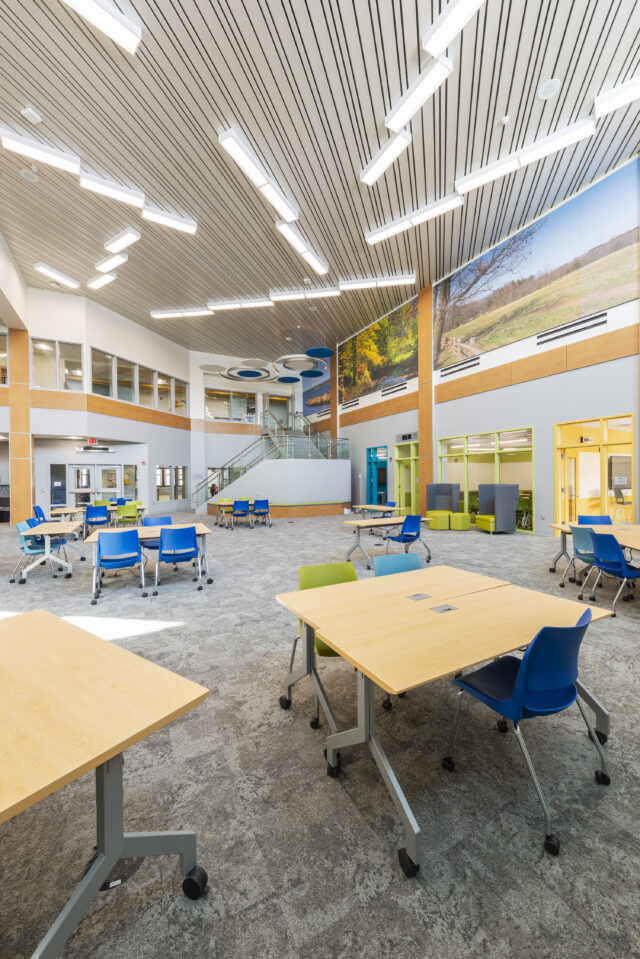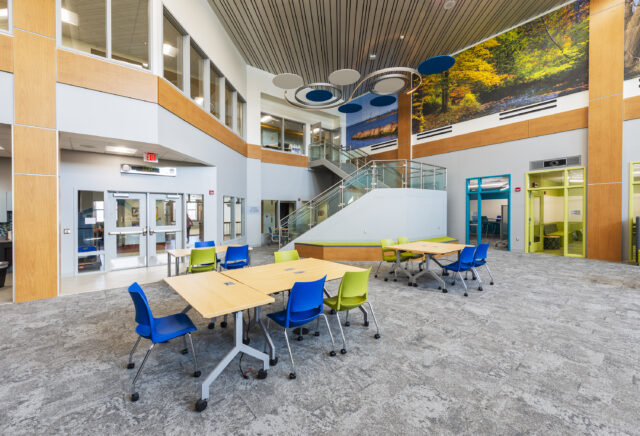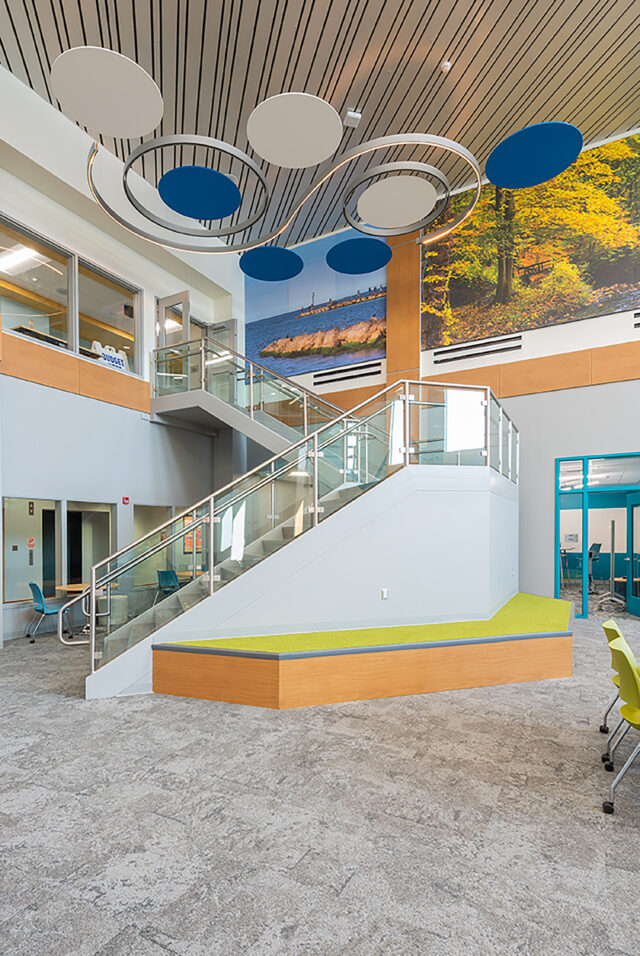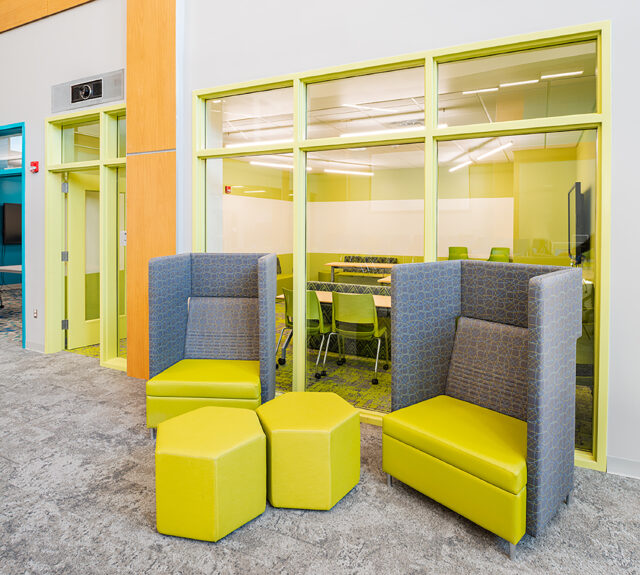 "I can't say enough about Dan Pieters and the team he assembled for Webster!! We've actually had fun creating and designing our two cap projects over the past few years, and it is because of the leadership we've seen from Dan and his colleagues. I hope to do a few more capital projects with LaBella before I retire!"Former Superintendent


Webster Central School District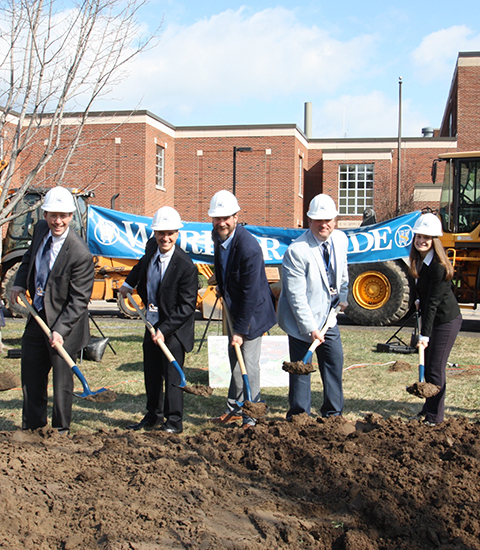 Powered by Partnership
Learn what it's like to work with LaBella on K-12 projects from our team and client partners, including Webster Central School District.