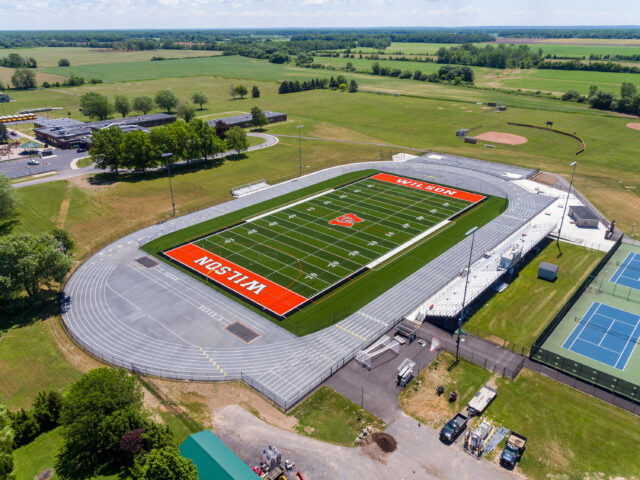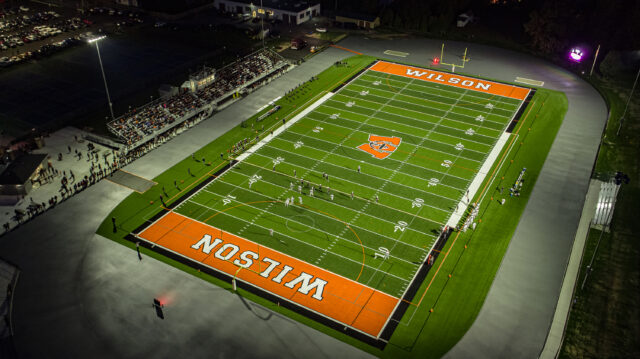 Wilson Central School District – 2017-2020 Planned Facilities Reconstruction
As part of a larger district-wide capital improvement project, Wilson Central School District set out to be on a "level playing field" with other districts when they worked with LaBella to redesign their athletic complex.
The existing grass field was removed and replaced with a new synthetic field, which was designed to incorporate the revamped school logo and color scheme. The multipurpose turf was striped to accommodate football, lacrosse, and field hockey; however, the increased sideline space required that the existing track, field lights, scoreboard, fencing, and drainage all had to be relocated as well.
Adjacent to the new track and field, a concrete plaza area was created around the existing concession stand. Additionally, a formal "stadium entrance' was constructed, signifying access to the new complex from the reconstructed spectator parking lot.
The District's capital improvement project also included restoration of the high school's original 1929 Federal-style façade. The renovation, which needed to satisfy the State Historic Preservation Office, included replacing the existing massive, double-hung windows with project out, double-hung replica windows that are easier for the user to operate. The original cupola was also refurbished using maintenance-free materials, thus allowing the community to enjoy the landmark far into the future.
Mechanical work included replacement of 18 classroom unit ventilators, 15 roof-mounted exhaust fans, and 5 rooftop units; upgraded cooling for data/server rooms; and upgraded ventilation in the administration offices. Electrical work involved upgrading the Public Address System, including providing IP telephones in all classrooms, to be used as a Mass Notification emergency lockdown system.
The scope of work at the elementary school incorporated window replacement, upgrades to the existing nurses area, improvements to the kitchen and cafeteria, and a new, secure entry vestibule.
Image Gallery