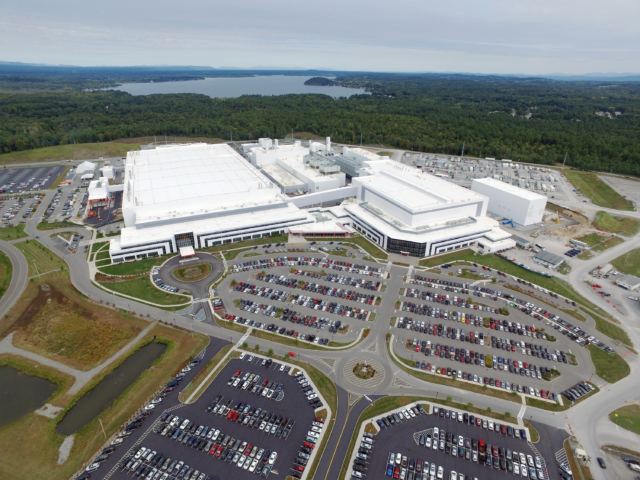 GlobalFoundries FAB8 at Luther Forest Technology Campus
GlobalFoundries Builds State-of-the Art Semiconductor Facility at FAB8 Site in Malta
The GlobalFoundries FAB8 project at the Luther Forest Technology Campus began as the largest planned project in the U.S. in 2009 at a project construction cost of $4.2 billion. Given the complexity and scale of the project, the Town of Malta selected LaBella to provide planning, engineering, and construction inspection support to ensure seamless execution of the state-of-the-art semiconductor manufacturing plant. In the decade since work began, GlobalFoundries has invested over $15 billion in the project.
The site includes 1.7 million sq. ft. of building space, a 221,000 sq. ft. administration building, a 535,000 sq. ft. Technology Development Center, and over a dozen additional support structures. Support structures include a Central Utility Building, an Electrical Service Building, a High Voltage and Bulk Gas Yard, and Hazardous Material Storage Buildings.
LaBella has assisted, and continues to assist, the Planning Board in its site plan review of the project, which occurred quickly because of the parameters established in the GEIS process. After obtaining Planning Board approval, the Town engaged LaBella for additional construction phase support, including providing a project ombudsman who is responsible for monitoring overall project compliance with the campus Planned Development District regulations, SEQR thresholds, and local plan approvals and conditions.
The second phase of support was to assist the Building Department with the review of building permit drawings in accordance with the Building Code of New York State (BCNYS). This work includes providing code reviews of design documents, code interpretations, review of variances and alternate means and methods, and the recommendation of issuance of building permits to the Town. In order to provide the necessary level of review, LaBella retained industry experts in the areas of H-5 occupancy, the highest hazard occupancy recognized by the BCNYS. The review scope is for all building systems, including structural, mechanical, electrical, plumbing, hazardous production materials, and tool sets. LaBella also performed code inspections to support the issuance of Certificates of Occupancy and provided oversight of the special inspection program and tool installation inspection program.
Since 2009, LaBella has performed continuous code compliance services on behalf of the Town of Malta for the development of the GlobalFoundries FAB8 project. Over the past decade, LaBella has built a team that specializes in the high-hazard design and construction that is required in today's semiconductor industry. As June 2022, our team continues to perform code compliance services on behalf of the Town of Malta for GlobalFoundries at the Luther Forest Technology Campus.
1.7 million
square feet of building space
$4.2 billion
construction cost of this development project, making it the largest planned project in the U.S. in 2009
$15 billion
dollars invested by GlobalFoundaries
Featured Industrial & Manufacturing Projects
View more